Week Offer with half-brother super racing hen Xenon
This week we offer an exceptionally beautiful young cock in the weekly offer.
The father is Claudio Ché"Claudio Ché" a super racing cock that became 1st Nat. ACE yearling all-round and was transferred to the breeding loft after winning this title.

The mother is "Inbred Don Leo" also the mother of super hen "Xenon" one of our best hens at the moment.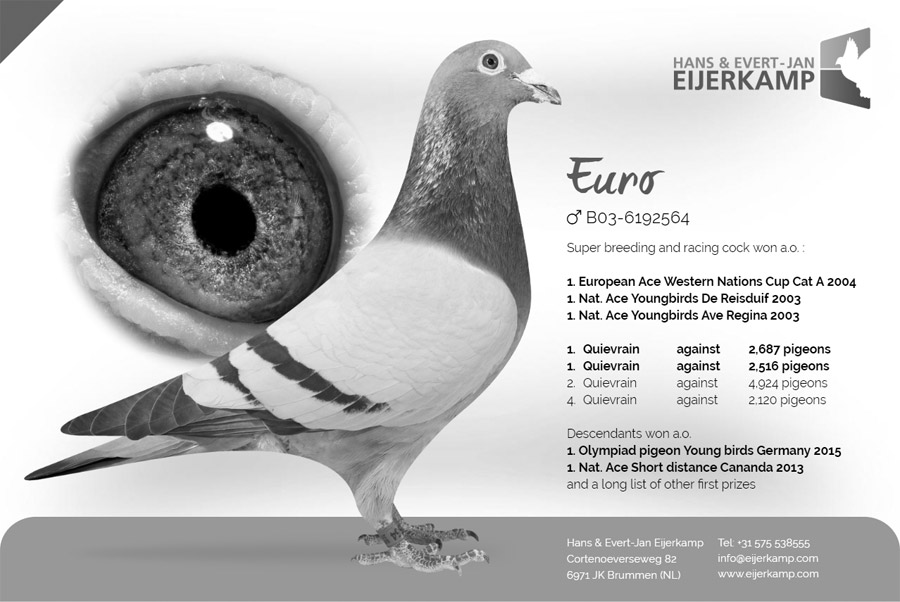 Xenon
NL2017-1820066
"
Xeno
n"
is winner 3x TOP 10 NPO
1.
Semi-Nat. Ace pigeon NU in 2018
1.
Semi-Nat Chateaudun
5,989 pigeons
6.
Nat. Chateaudun
12,511 pigeons
7.
NPO Fay aus Loges
6,957 pigeons
8.
NPO. Chateauroux
3,989 pigeons
17.
Tienen
3,918 pigeons
18.
NPO Bourges
2,242 pigeons
23.
NPO. Chateauroux
3.794 pigeons
52.
NPO Issoudun
5,595 pigeons
62.
NPO Gien
5.615 pigeons
26.
Tienen
1,654 pigeons
68.
Chimay
4,330 pigeons
Daughter '
Tanguy
' x "
Inbred Don Leo"
Hans & Evert-Jan Eijerkamp
Cortenoeverseweg 82
6971 JK Brummen (NL)Tel: +31 575 538555
info@eijerkamp.com
www.eijerkamp.com