UNPRECEDENTED 1, 2, 3, 4, 5, 6, 7, 8, 9, 10, 11, 12, 13, 14, 16, 17, 18, 19, 20, 21, 32, 33 etc NPO Peronne against 5,900 pigeons
Unprecedented and unparalleled results
Photo : Lotte Eijerkamp (eldest daughter Evert Jan), Hans Eijerkamp, Oliver Sabol (loft manager for Lotte), Evert Jan Eijerkamp

Today, Friday, August 24, the youngsters were released in Peronne.
The intention was to liberate on Saturday in Reims, but because of the bad weather forecast, the section management team came up with an inventive solution.
We had basketed 102 pigeons.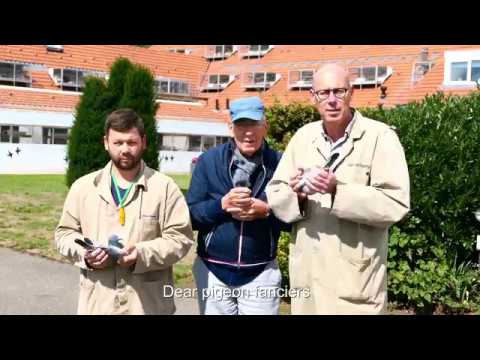 Results by level
| Level | Pigeons | Result | Prizes | Boxed | Percentage |
| --- | --- | --- | --- | --- | --- |
| Club | 187 | 1-2-3-4-5-6-7-8-9-10-11-12-13-14-15-16-17-18-19-20 etc. | 40 | 102 | 39.2% |
| Area the IJssel | 547 | 1-2-3-4-5-6-7-8-9-10-11-12-13-14-15-16-17-18-19-20 etc. | 68 | 102 | 66.7% |
| Region 4 (GOU) | 1639 | 1-2-3-4-5-6-7-8-9-10-11-12-13-14-15-16-17-18-19-20 etc. | 70 | 102 | 68.6% |
| Section 8 South (NPO) | 3272 | 1-2-3-4-5-6-7-8-9-10-11-12-13-14-16-17-18-19-20-21 etc. | 74 | 102 | 72.5% |
| Section 8 | 5900 | 1-2-3-4-5-6-7-8-9-10-11-12-13-14-16-17-18-19-20-21 etc. | 74 | 102 | 72.5% |
First 90 arrivals from Peronne
| | | |
| --- | --- | --- |
| Distance: 332.058 km | Liberation time: 09:00 | Wind direction: West |
#
Band nr.
Loft
Clocked
Velocity
Photo
7
NL18-1627852
24/08/2018 12:27:36
1,599.5 mpm

Pedigree

More >>

8
NL18-1627922
24/08/2018 12:27:36
1,599.5 mpm

Pedigree

More >>

9
NL18-1627739
24/08/2018 12:27:39
1,599.1 mpm

Pedigree

More >>

10
NL18-1627963
24/08/2018 12:27:39
1,599.1 mpm

Pedigree

More >>

11
NL18-1627859
24/08/2018 12:27:42
1,598.7 mpm

Pedigree

More >>

12
NL18-1628201
24/08/2018 12:27:46
1,598.2 mpm

Pedigree

More >>

13
NL18-1627756
24/08/2018 12:27:50
1,597.7 mpm

Pedigree

More >>

14
NL18-1627651
24/08/2018 12:28:04
1,595.9 mpm

Pedigree

More >>

15
NL18-1627845
24/08/2018 12:29:10
1,587.5 mpm

Pedigree

More >>

16
NL18-1628142
24/08/2018 12:29:11
1,587.4 mpm

Pedigree

More >>

17
NL18-1628188
24/08/2018 12:29:19
1,586.4 mpm

Pedigree

More >>

18
NL18-1627738
24/08/2018 12:29:20
1,586.3 mpm

Pedigree

More >>

19
NL18-1628071
24/08/2018 12:29:26
1,585.5 mpm

Pedigree

More >>

20
NL18-1627972
24/08/2018 12:29:27
1,585.4 mpm

Pedigree

More >>

21
NL18-1627815
24/08/2018 12:31:06
1,573.0 mpm

Pedigree

More >>

22
NL18-1628074
24/08/2018 12:31:07
1,572.9 mpm

Pedigree

More >>

23
NL18-1628149
24/08/2018 12:31:07
1,572.9 mpm

Pedigree

More >>

24
NL18-1628102
24/08/2018 12:31:08
1,572.7 mpm

Pedigree

More >>

25
NL18-1627964
24/08/2018 12:31:08
1,572.7 mpm

Pedigree

More >>

26
NL18-1628133
24/08/2018 12:31:10
1,572.5 mpm

Pedigree

More >>

27
NL18-1627902
24/08/2018 12:32:26
1,563.1 mpm

Pedigree

More >>

28
NL18-1628115
24/08/2018 12:32:33
1,562.3 mpm

Pedigree

More >>

29
NL18-1627807
24/08/2018 12:32:33
1,562.3 mpm

Pedigree

More >>

30
NL18-1627960
24/08/2018 12:32:35
1,562.0 mpm

Pedigree

More >>

31
NL18-1627650
24/08/2018 12:32:36
1,561.9 mpm

Pedigree

More >>

32
NL18-1628046
24/08/2018 12:32:37
1,561.8 mpm

Pedigree

More >>

33
NL18-1627619
24/08/2018 12:33:36
1,554.6 mpm

Pedigree

More >>

34
NL18-1627641
24/08/2018 12:35:04
1,544.0 mpm

Pedigree

More >>

35
NL18-1627984
24/08/2018 12:35:40
1,539.7 mpm

Pedigree

More >>

36
NL18-1628176
24/08/2018 12:35:46
1,539.0 mpm

Pedigree

More >>

37
NL18-1628187
24/08/2018 12:35:55
1,537.9 mpm

Pedigree

More >>

38
NL18-1627816
24/08/2018 12:36:11
1,536.0 mpm

Pedigree

More >>

39
NL18-1628154
24/08/2018 12:36:59
1,530.3 mpm

Pedigree

More >>

40
NL18-1627900
24/08/2018 12:37:03
1,529.9 mpm

Pedigree

More >>

41
NL18-1627678
24/08/2018 12:37:21
1,527.8 mpm

Pedigree

More >>

42
NL18-1627809
24/08/2018 12:38:13
1,521.7 mpm

Pedigree

More >>

43
NL18-1627620
24/08/2018 12:38:13
1,521.7 mpm

Pedigree

More >>

44
NL18-1627880
24/08/2018 12:38:43
1,518.2 mpm

Pedigree

More >>

45
NL18-1627667
24/08/2018 12:39:48
1,510.7 mpm

Pedigree

More >>

46
NL18-1628114
24/08/2018 12:39:50
1,510.5 mpm

Pedigree

More >>

47
NL18-1628122
24/08/2018 12:39:55
1,509.9 mpm

Pedigree

More >>

48
NL18-1627883
24/08/2018 12:39:59
1,509.5 mpm

Pedigree

More >>

49
NL18-1627819
24/08/2018 12:40:03
1,509.0 mpm

Pedigree

More >>

50
NL18-1628199
24/08/2018 12:40:06
1,508.7 mpm

Pedigree

More >>

51
NL18-1627736
24/08/2018 12:41:23
1,499.9 mpm

Pedigree

More >>

52
NL18-1627646
24/08/2018 12:42:24
1,493.1 mpm

Pedigree

More >>

53
NL18-1628064
24/08/2018 12:42:34
1,491.9 mpm

Pedigree

More >>

54
NL18-1627924
24/08/2018 12:42:52
1,489.9 mpm

Pedigree

More >>

55
NL18-1628037
24/08/2018 12:42:53
1,489.8 mpm

Pedigree

More >>

56
NL18-1628166
24/08/2018 12:43:28
1,485.9 mpm

Pedigree

More >>

57
NL18-1628106
24/08/2018 12:43:34
1,485.3 mpm

Pedigree

More >>

58
NL18-1627896
24/08/2018 12:43:49
1,483.6 mpm

Pedigree

More >>

59
NL18-1628036
24/08/2018 12:43:51
1,483.4 mpm

Pedigree

More >>

60
NL18-1627940
24/08/2018 12:43:51
1,483.4 mpm

Pedigree

More >>

61
NL18-1627962
24/08/2018 12:45:17
1,474.0 mpm

Pedigree

More >>

62
NL18-1627640
24/08/2018 12:45:35
1,472.0 mpm

Pedigree

More >>

63
NL18-1627774
24/08/2018 12:45:41
1,471.3 mpm

Pedigree

More >>

64
NL18-1627771
24/08/2018 12:45:43
1,471.1 mpm

Pedigree

More >>

65
NL18-1628027
24/08/2018 12:45:53
1,470.0 mpm

Pedigree

More >>

66
NL18-1628130
24/08/2018 12:45:55
1,469.8 mpm

Pedigree

More >>

67
NL18-1627850
24/08/2018 12:45:56
1,469.7 mpm

Pedigree

More >>

68
NL18-1627642
24/08/2018 12:47:18
1,460.9 mpm

Pedigree

More >>

69
NL18-1628085
24/08/2018 12:48:18
1,454.5 mpm

Pedigree

More >>

70
NL18-1628158
24/08/2018 12:48:29
1,453.3 mpm

Pedigree

More >>

71
NL18-1627777
24/08/2018 12:49:08
1,449.2 mpm

Pedigree

More >>

72
NL18-1627968
24/08/2018 12:49:26
1,447.3 mpm

Pedigree

More >>

73
NL18-1627772
24/08/2018 12:49:31
1,446.8 mpm

Pedigree

More >>

74
NL18-1627953
24/08/2018 12:49:39
1,445.9 mpm

Pedigree

More >>

75
NL18-1627867
24/08/2018 12:51:29
1,434.5 mpm

Pedigree

More >>

76
NL18-1627674
24/08/2018 12:57:44
1,396.8 mpm

Pedigree

More >>

77
NL18-1628192
24/08/2018 12:58:55
1,389.8 mpm

Pedigree

More >>

78
NL18-1627879
24/08/2018 12:59:23
1,387.1 mpm

Pedigree

More >>

79
NL18-1627709
24/08/2018 13:05:35
1,352.1 mpm

Pedigree

More >>

80
NL18-1627791
24/08/2018 13:05:36
1,352.0 mpm

Pedigree

More >>

81
NL18-1628185
24/08/2018 13:05:37
1,351.9 mpm

Pedigree

More >>

82
NL18-1627636
24/08/2018 13:06:05
1,349.4 mpm

Pedigree

More >>

83
NL18-1627702
24/08/2018 13:07:21
1,342.5 mpm

Pedigree

More >>

84
NL18-1627752
24/08/2018 13:07:24
1,342.2 mpm

Pedigree

More >>

85
NL18-1627703
24/08/2018 13:11:44
1,319.1 mpm

Pedigree

More >>

86
NL18-1627829
24/08/2018 13:12:44
1,313.9 mpm

Pedigree

More >>

87
NL18-1627881
24/08/2018 13:14:21
1,305.5 mpm

Pedigree

More >>

88
NL18-1628141
24/08/2018 13:18:51
1,282.8 mpm

Pedigree

More >>

89
NL18-1627656
24/08/2018 13:20:21
1,275.4 mpm

Pedigree

More >>

90
NL18-1627648
24/08/2018 13:38:45
1,191.2 mpm

Pedigree

More >>