FANTASTIC result 1, 2, 9, 15, 16 etc Laon against 9.815 pigeons
Photo from left to right: Henk Jurriëns, Dolf and Ruud Bakker, Evert Jan, Oliver and Hans Eijerkamp

The pigeons for the natoer (old and young birds) race were released in Laon (329km).
We had basketed 29 pigeons of which 11 youngsters.

It was an unexpected result with 3 youngsters who came first.
Click here for the pedigree of the first 3 arriving pigeons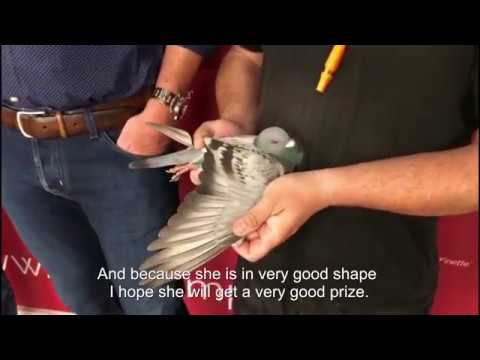 Results by level
| Level | Pigeons | Result | Prizes | Boxed | Percentage |
| --- | --- | --- | --- | --- | --- |
| Club | 265 | 1-2-3-4-5-7-8-11-12-15-19-21 etc. | 20 | 29 | 69.0% |
| Area the IJssel | 1097 | 1-2-6-9-10-45-53-64-67-71-89 etc. | 19 | 29 | 65.5% |
| Region 4 (GOU) | 2993 | 1-2-9-13-14-87-96 etc. | 20 | 29 | 69.0% |
| Section 8 | 9815 | 1-2-9-15-16 etc. | 17 | 29 | 58.6% |
First 24 arrivals from Laon
| | | |
| --- | --- | --- |
| Distance: 328.408 km | Liberation time: 09:45 | Wind direction: ZZW |
#
Band nr.
Loft
Clocked
Velocity
Photo
7
NL18-1628071
08/09/2018 12:59:16
1,690.5 mpm

Pedigree

More >>

8
NL17-1820060
08/09/2018 13:00:10
1,682.7 mpm

Pedigree

More >>

9
NL17-1820137
08/09/2018 13:00:13
1,682.3 mpm

Pedigree

More >>

10
NL18-1627881
08/09/2018 13:00:45
1,677.7 mpm

Pedigree

More >>

11
NL16-1253725
08/09/2018 13:01:51
1,668.3 mpm

Pedigree

More >>

12
NL18-1627656
08/09/2018 13:02:51
1,659.9 mpm

Pedigree

More >>

13
NL17-1819818
08/09/2018 13:04:06
1,649.5 mpm

Pedigree

More >>

14
NL17-1820045
08/09/2018 13:06:02
1,633.6 mpm

Pedigree

More >>

15
NL17-1820012
08/09/2018 13:08:34
1,613.3 mpm

Pedigree

More >>

16
NL16-1253685
08/09/2018 13:08:55
1,610.5 mpm

Pedigree

More >>

17
NL17-1820194
08/09/2018 13:11:01
1,594.1 mpm

Pedigree

More >>

18
NL17-1820042
08/09/2018 13:13:45
1,573.2 mpm

Pedigree

More >>

19
NL18-1627636
08/09/2018 13:13:55
1,572.0 mpm

Pedigree

More >>

20
NL15-1362814
08/09/2018 13:17:03
1,548.7 mpm

Pedigree

More >>

21
NL17-1820486
08/09/2018 13:21:28
1,517.1 mpm

Pedigree

More >>

22
NL18-1627648
08/09/2018 13:29:03
1,465.8 mpm

Pedigree

More >>

23
NL18-1628060
08/09/2018 13:34:09
1,433.2 mpm

Pedigree

More >>

24
NL18-1627852
08/09/2018 13:52:10
1,328.7 mpm

Pedigree

More >>