Sensational transfer Beetle
to the breeding loft
Due to the Covid-19 virus the racing program for the pigeons has been delayed for several weeks in the Netherlands. Just recent we heard that we are due to re-start the season as from May 23 but this all will be in-official races as still in Holland no official sport is allowed. As the border to Belgium also still is closed the racing for the pigeons will start from Germany (south / south-east direction). As for this we have decided to transfer the Beetle"Beetle" to our own breeding loft as we do not take any more risk with this superhen.

Beetle"Beetle", NL18-1627902NL18-1627902, was already super as youngster in which she turned out to be one of the best in the Netherlands and as yearling, in 2019, she just was the best of the Netherlands.

Beetle"Beetle" achieved following titles in 2 years of racing
1. Nat. Ace pigeon Yearlings De Allerbeste 2019
1. Nat. Ace pigeon Middle Distance PIPA 2019
2. Nat. Ace pigeon Short and Middle-Distance PIPA 2019
5. Nat. Ace pigeon Youngsters De Allerbeste 2018
8. Nat. Ace pigeon Youngsters PIPA 2018
9. Nat. Ace pigeon Middle Distance WHZB 2019
12. Nat. Ace pigeon Short Distance WHZB 2019
The best results for Beetle"Beetle" in her short successful career are;
| | | |
| --- | --- | --- |
| 1. Niergnies | 1,597 pigeons | 299 km |
| 2. Niergnies | 2,748 pigeons | 299 km |
| 5. Tienen | 2,943 pigeons | 166 km |
| 6. Bierges | 833 pigeons | 187 km |
| 7. Prov. Chalons | 17,360 pigeons | 373 km |
| 7. Tienen | 1,752 pigeons | 166 km |
| 7. Geel | 1,292 pigeons | 133 km |
| 10. Prov. Morlincourt | 23,392 pigeons | 359 km |
| 14. Tienen | 2,469 pigeons | 166 km |
| 16. NPO Troyes | 3,836 pigeons | 449 km |
| 25. Prov. Reims | 6,950 pigeons | 352 km |
| 25. Geel | 4,998 pigeons | 133 km |
| 38. Quievrain | 6,209 pigeons | 256 km |
| 38. Quievrain | 4.152 pigeons | 256 km |
| 47. NPO Peronne | 5,900 pigeons | 332 km |
| 58. Quievrain | 5,903 pigeons | 256 km |
In 2018 she was entered 9x and won 7 prize cards
In 2019 she was entered 21x and won 21 prize cards

Beetle"Beetle" is bred from super breeder Vetblauwe Jackpot"Vetblauwe Jackpot" x Uniek"Uniek", daughter for the Barend J."Barend J." X Aniek"Aniek".

Above a picture for our new top couple Turbo Rossi"Turbo Rossi" X Beetle"Beetle"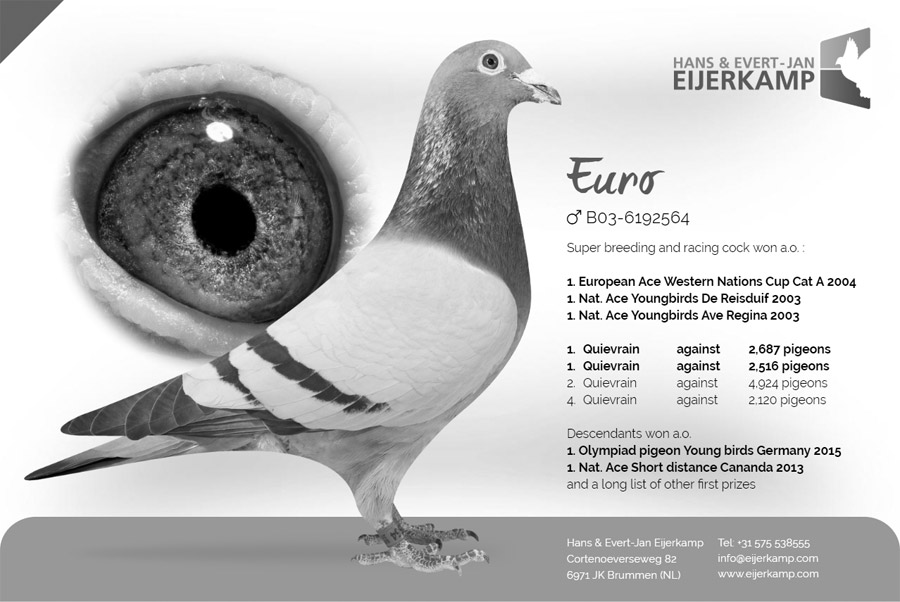 Beetle
NL2018-1627902
"Beetle"
is winner of
1. Nat. Ace pigeon Yearlings De Allerbeste 2019
1. Nat. Ace pigeon Middle Distance Pipa 2019
2. Nat. Ace pigeon Pipa ranking SD/MD 2019
5. Nat. Ace Youngsters De Allerbeste 2018
8. Nat. Ace Youngsters PIPA 2018
9. Nat. Ace pigeon Middle Distance WHZB
| | | |
| --- | --- | --- |
| 1. | Niergnies | 1,597 pigeons |
| 2. | Niergnies | 2,748 pigeons |
| 5. | Tienen | 2,882 pigeons |
| 7. | Prov. Chalons | 17,360 pigeons |
| 7. | Tienen | 1,752 pigeons |
| 7. | Geel | 1,292 pigeons |
| 10. | Prov. Morlincourt | 22,392 pigeons |
| 16. | NPO Troyes | 3,836 pigeons |
Hans & Evert-Jan Eijerkamp
Cortenoeverseweg 82
6971 JK Brummen (NL)Tel: +31 575 538555
info@eijerkamp.com
www.eijerkamp.com