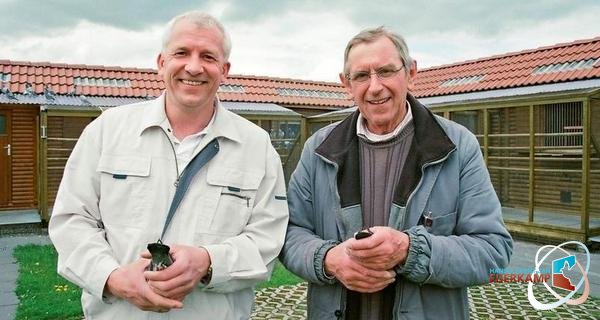 Team Schlief-Stiens again outstanding with Heremans-Ceusters lines in Germany
Team Schlief-Stiens from Oelde are already one of the best racing lofts in Germany for years and again in 2020 they topped the championships in many disciplines in their federation as well provincial level (Regionalverband) as well as on National level.

Olympiade contester in Brussels and Budapest
The partnership was participant for Germany in 2 Olympiads with descendants for their golden breeding pair B09-6367613 "The Clone" (son Olympiade"Olympiade 003" ) x NL09-1835099NL09-1835099 "Best Mother Ever", direct daughter Euro"Euro" x Finette"Finette". Their daughter 02114-13-3008 "Olympiade 008" was the second German pigeon in Cat G at the Budapest Olympiad while "Olympic Martin" represented Germany as the 2nd Olympiade pigeon in Cat. A, and "Olympic Martin" is grandchild for this golden breeding couple bred from full sister the "Olympiade 008".

"Ferrari Rossi", new breeding star in Oelde
The "Ferrari Rossi" NL12-1233766NL12-1233766 is new breeding star in Oelde as this direct son for Rossi"Rossi" and Olympic Vivian"Olympic Vivian" bred 2 current racing stars in the 2020 season. "Ferrari Rossi" is father
DV02114-17-7132 "Asweibchen Reg", a super hen who is 1. Ace pigeon Regional Verband 416 with 11 prizecards and 789 Acepoints. She won 3-6-6-9-9-12-13-14-20-23-23 etc in the Fed.
She is direct daughter for the "Ferrari Rossi" x "Marbell", full sister "Olympiade 008".

12. National Ace cock of Germany 2020
The DV02114-18-8286 "12. Budesasvogel" was crowned 12th National Ace cock of Germany 2020, 1st Ace cock in Regional Verband with 11 prizecards and 920 Ace points as well 1st Ace cock in the federation. This crack won a.o. 1. / 466 pigeons, 2. / 738 pigeons, 4. / 6001 pigeons. This crack is bred from 2 direct Eijerkamp pigeons as father again is "Ferarri Rossi NL12-1233766NL12-1233766 while mother is direct daughter to the legendary Nieuwe Olympiade"Nieuwe Olympiade" NL16-1254838NL16-1254838. Martin Stiens bought many pigeons at the Eijerkamp lofts and with many of them he and his father-in-law became very successful which led them to the top of the German pigeon sport over the year.