Gerard Heinhuis wins 1. Prov Sourdun - 6,700 pigeons with 50% Eijerkamp blood
On a fast and rainy one-day-long-distance race, which already was postponed with 1 day because of the heavy rain Gerard Heinhuis from Steenwijk wins 1st and 3rd NPO Sourdun (511 km) in section 11 against 6,700 pigeons with his yearling hen "Rooie" NL20-4212819. All together Gerard made a fantastic result as he had 9 pigeons in the first 100 pigeons in the prize list out of the 35 pigeons he entered in this race.




Winner of the day NL20-4212819 "Rooie"
As youngster she won already 7 prize cards and this year so far, 3 prizes for which her best results are;
1. NPO Sourdun 6,700 pigeons
33. Sittard 6,083 pigeons
44. Burdin 5,237 pigeons
169. Boxmeer 7,107 pigeons


This red hen "Rooie" won, with a velocity of 1713 m.p.m., the 1st prize against 6,700 pigeons and she is bred from NL18-1121500 a red breeder who is bred from 2 direct Eijerkamp pigeons in the loft of sportfriend Bol as his father is NL17-1821610NL17-1821610, a pure Stefaan Lambrechts, bred from a full brother Porsche"Porsche" x half-sister "Ynthe". The mother to the NL18-500 is the NL17-1821001NL17-1821001 bred from "Kratos" x sister 2. Nat. Ace KBDB in 2014.

Mother to the "Rooie" is NL1501266589 a very good breeding hen from Gerard Heinhuis and granddaughter to the "Witpen Euro". This "Witpen Euro" is outstanding breeding cock bred from the B05-6045522B05-6045522 "Broer Euro", a full brother of the Euro"Euro" x B05-6075345 daughter Euro"Euro". The "Witpen Euro" is a full brother to the father of New Euro"New Euro", Olympic pigeon in Germany for the partnership H and S. Müller. They sold their Olympic pigeon at the Herbots Site where Team Eijerkamp bought the New Euro"New Euro" and in the meantime he turned out to be one of the top breeders in the Eijerkamp lofts.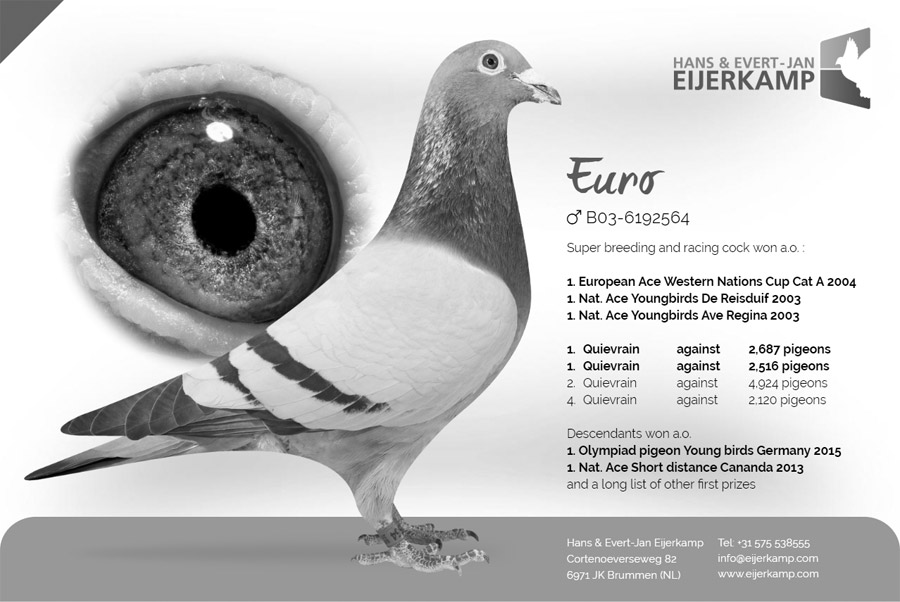 New Euro
DV2014-07462432
"New Euro"
is winner of
1. best Youngbird Germany 2014
1. German Olympiad pigeon Budapest Cat. F
| | | |
| --- | --- | --- |
| 1. | Alsfeld | 3,825 pigeons |
| 2. | Frankenau | 4,049 pigeons |
| 3. | Korbach | 4,293 pigeons |
"New Euro"
is father to
3. Nat. Ace Young M.D. Pipa 2018
5. Nat. Ace S.D./M.D. WHZB 2020
9. Nat. Ace Youngster WHZB 2019
| | | | |
| --- | --- | --- | --- |
| 1. | Provincial Laon | 7,594 pigeons | 327 km |
| 3. | Nat. Melun | 6,383 pigeons | 463 km |
| 6. | NPO Peronne | 5,900 pigeons | 335 km |
| 7. | Prov. Reims | 6,950 pigeons | 352 km |
| 9. | NPO Troyes | 3,834 pigeons | 447 km |
Hans & Evert-Jan Eijerkamp
Cortenoeverseweg 82
6971 JK Brummen (NL)Tel: +31 575 538555
info@eijerkamp.com
www.eijerkamp.com