Roger Lowe – Reading (UK) winning 1st and 2nd Open Ilkeston with 75% Eijerkamp blood
Roger Lowe started his racing pigeon career already in 1973. Recognized today as Orbital Lofts he is well-known all-over Europe having won numerous classic and national races. Now at the start of 2021 another double victory, with 2 full sisters, for Roger from the race out of Ilkeston (168 km). The GB20-N17134 "Orbital Northern Star" beat her sister GB20-N17198 "Orbital Northern Lights" by 9 seconds and was the winner, with a speed of 1,218 y.p.m., for this race against 1,112 pigeons. The race now flown from the North Road as the UK fanciers are, for this moment, not allowed anymore to race their pigeons from France. So, for all fanciers a new challenge to train and race their pigeons now from the North instead from France.




Both sisters played in the double widowhood system and "Orbital Northern Star" took the win in the Central Southern Classic Flying Club. She already was best youngster in the loft for Roger in 2020 and now she started the season of with this great victory for good old Roger Lowe. Bother parents were bred by Nigel Langstaff from the former partnership Crammond & Langstaff.
Father: GB17-N099651 "Orbital Freebie" grandson for the "Ché" bred from NL13-1801228NL13-1801228 "Top Ché", a fantasic breeding son of the famous "Ché" when paired to a daughter of Kain"Kain". "Top Ché" was paired to GB13-K04041 direct Crehan & OConner and daughter for "Colt 45" and "Mystique"
Mother: GB15-X16813 "Lucky 13" who is bred from 2 direct Eijerkamp pigeons. His father is NL13-1803530NL13-1803530 "Amsterdam", direct son for "Ché Junior", a superb breeding cock and direct son for the legendary "Ché" x "Beauty 815", daughter for the famous "Harry". Mother to "Lucky 13" is NL13-1804115NL13-1804115 "Harriet" who is direct daughter for Carlos"Carlos", another super son for "Ché" when paired to "Inteelt Harry", another daughter for the "Harry". So, in fact "Lucky 13" is inbred to as well "Ché" as well "Harry", two icons in Dutch pigeon racing in the One-Day Long distance.
Roger also bred super pigeons from NL15-1364311 'Shining Ché' when paired to "Lucky 13". They are parents from many winners incl 1st 509 pigeons Section and 9th Open 2605 pigeons NFC National Countaces. "Shining Ché" is also bred from Carlos"Carlos", now paired to "Sunshine".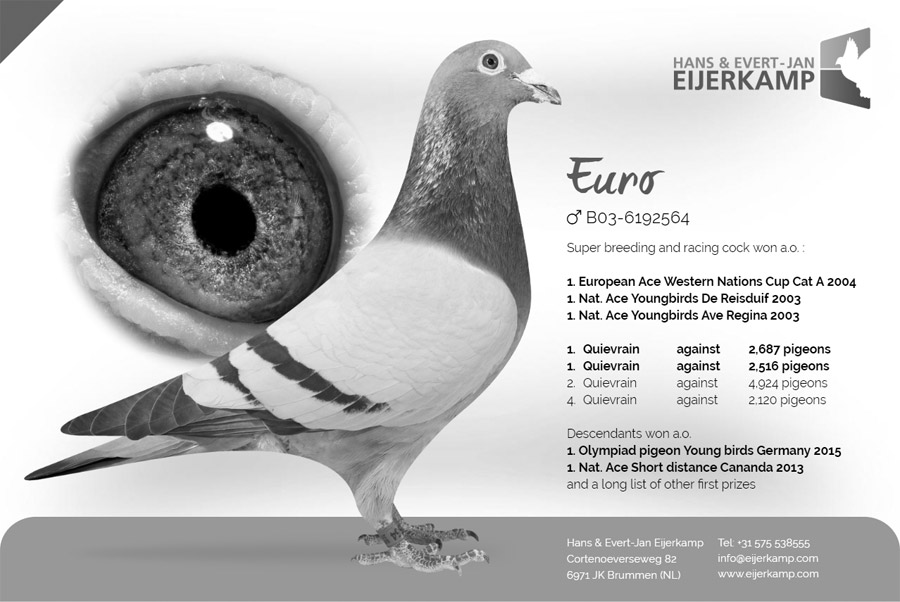 Ché
NL2004-1560084
Super breeder "
Ché
" is winner
| | | | | |
| --- | --- | --- | --- | --- |
| 1. | NPO Orleans | | 14,285 pigeons | 556 km |
| 1. | Arras | | 9,641 pigeons | 310 km |
| 9. | NPO Orleans | | 18,184 pigeons | 556 km |
| 9. | Bourges | | 1,834 pigeons | 620 km |
Descendants
'Che'
won a.o.
1. Arriving pigeon Pioneer Club race 2017
1. Nat. ACE Young BirdsThe Netherlands
1. Provincial ACE Section 4 One-Day Distance
1. Nat. ACE Fondspiegel 2013 One-Day Distance
1. Nat. ACE FRSC Romania 2012 All-round
1. Arriving pigeon Mira Derby One Loft race
1. Semi-National ACE 2010 One-Day Distance
Hans & Evert-Jan Eijerkamp
Cortenoeverseweg 82
6971 JK Brummen (NL)Tel: +31 575 538555
info@eijerkamp.com
www.eijerkamp.com