Jozsa Janos - Cegled (Hungary) winning 1st Jihlave – 2,426 pigeons with 50% Eijerkamp
The cock HU20-D572006 winning 1. Jihlava (398 km) against 2,426 pigeons (1,308 m.pm.)
The nest mate HU 20-D572005 winning 14th prizecard in this same race.
The mother to the winner is the NL14-1605085NL14-1605085 who is full sister to the super hens Indy"Indy" and Jana"Jana" bred from Emilio"Emilio" x Kaira"Kaira". Both, Indy"Indy" and Jana"Jana" were 2 super racing pigeons before they became both top breeding hens in the Eijerkamp lofts. So again, another victory with descendant for the famous Janssen x van Loon lines.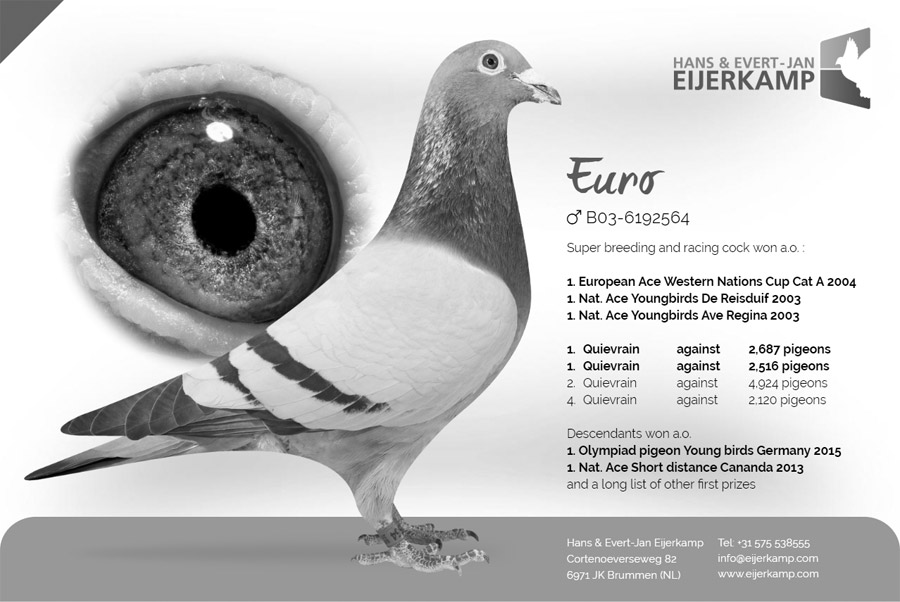 Indy
NL2014-1603358
"Indy"
is winner of
3. Nat ACE Hens WHZB All-round
5.
NPO Troyes
449km
4,122 pigeons
7.
NPO Chateauroux
666km
2,200 pigeons
9.
NPO Chateaudun
564km
3,621 pigeons

"Indy" is superbreeding hen and mother to;
2. Nat. Ace Long Distance WHZB 2018
2. Nat. Ace Middle Distance Young NPO 2019
11. Nat. Ace All-round Allerbeste 2017

"Indy" is grandmother to
2. Nat. Ace Long Distance WHZB 2019
1. NPO Morlincourt (401 km) 3,065 pigeons
Hans & Evert-Jan Eijerkamp
Cortenoeverseweg 82
6971 JK Brummen (NL)Tel: +31 575 538555
info@eijerkamp.com
www.eijerkamp.com



Janos is a true fan for the Eijerkamp pigeons and has bought several pigeons at the Eijerkamp lofts for which he also was very successful with their descendants.
In 2013 he had the 3rd Olympiade pigeon for Hungary in Cat. H with the HU-12-D-501003 "Mr Olimpia II". This cock was bred from NL06-1764357NL06-1764357, "Prima Solano", who was bred out of a brother x sister pairing, both out of Solano"Solano" x La Prima Vera"La Prima Vera".




Another Olympiade pigeon for Janos is the HU 11-D-372201 "Mr. Olimpia III" which was proclaimed 3rd Olympiade pigeon in 2015 in Budapest. This super cock was bred from NL08-1103124NL08-1103124 who is bred from a son of "Bange Bond" (Eijerkamp-Janssen) x daughter Tips"Tips".