Jos van Roon – Brummen winning 5. NPO Issoudun with 50% Eijerkamp pigeon
The hen, NL19-1415628, did it again for Jos van Roon as she now won 5. NPO Issoudun (645 km) against 4,462 pigeons in Afdeling 8. Again, as in the first One-day long distance she already won 22. NPO Chateaudun. Jos van Roon is a small fancier who only race with 12 widowhood hens, but in his loft he keeps some top-quality pigeons as he was, together with his late father Arie van Roon, one of the first Dutch fanciers who visited Leo Heremans in Vorselaar. They acquired, thanks to Hans Eijerkamp, at that stage some direct Heremans-Ceusters pigeons including children from Jackpot"Jackpot", Rossi"Rossi" x Spinneke"Spinneke", "Goeie 209" etc. In this the famous "Bak 9" pair was founded, and this pair is the golden line in their loft for which offspring succeeded from 100 – 700 km successfully. Now also again with this hen NL19-628 as she is in meantime the 3rd generation for this super pair.

This is her second top result on the one-day long distance for the NL19-1415628 and these are the best results for her
5. NPO Issoudun 645 Km 4,462 pigeons (29. National - 10.437 pigeons)
22. NPO Chateaudun 563 Km 5,269 pigeons
77. Bourges 610 km 1,585 pigeons
55. Morlincourt 4,288 pigeons
Father: NL18-1630982 Half-brother Joy Boy"Joy Boy", 1. Nat. Ace pigeon Long Distance PIPA 2017. This father is direct from Hans and Evert-Jan Eijerkamp and is bred from Yvan"Yvan" X "Dayna", granddaughter for the worldfamous "Ché". Yvan"Yvan" is father of Joy Boy"Joy Boy", who was winner of 1.Nat. Ace pigeon long distance PIPA in 2017 in the lofts for Jan Kaman and who was bought, together with his father at the end of the 2017 season by Eijerkamp.

Mother: NL18-1630972 "Inbred Bak 9", from son x granddaughter of this top couple.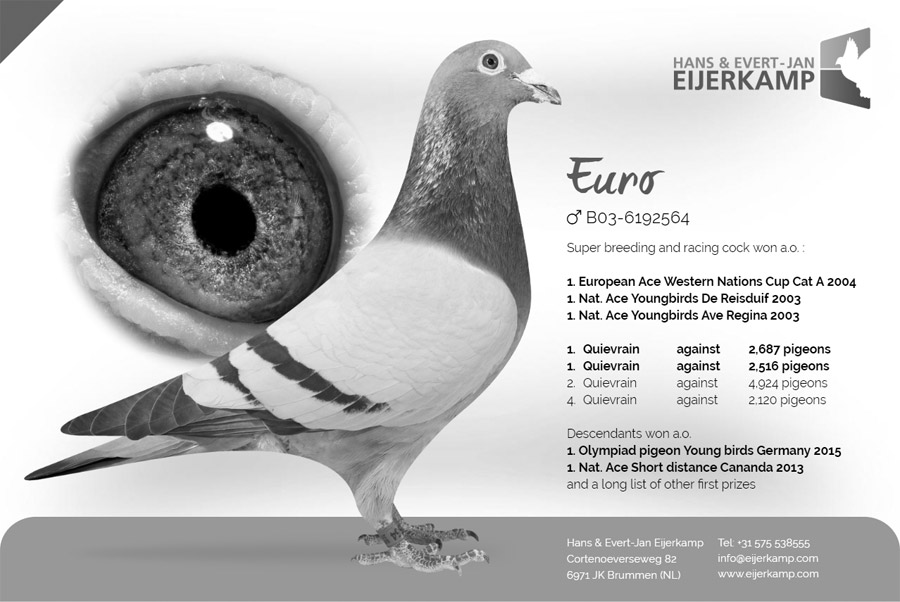 Yvan
NL2014-1820427
Super breeder and father to
"Joy Boy"
1. Nat ACE One-Day Long Distance PIPA
2.
NPO Bourges
5,324 pigeons
3.
NPO La Souterraine
2,875 pigeons
5.
NPO Argenton sur Creuse
4,138 pigeons
2.
Minderhout
1,223 pigeons
10.
Pt St Maxence
1,548 pigeons

"Yvan" also is (grand)father to
5.
NPO Issoudun
4,462 pigeons
7.
NPO Nanteuil
5,215 pigeons
11.
NPO Peronne
5,900 pigeons
22.
NPO Chateaudun
5,269 pigeons
3.
Niergnies
2,748 pigeons
Hans & Evert-Jan Eijerkamp
Cortenoeverseweg 82
6971 JK Brummen (NL)Tel: +31 575 538555
info@eijerkamp.com
www.eijerkamp.com