Direct Eijerkamp cock is foundation cock at Hok Deijckers-Gullit in the Netherlands.
The Eijerkamp has become foundation cock in the loft for the partnership Hok Deijckers – Gullit from Zevenbergschehoek and his offspring is going very strong even when it is already up to 4 generations. The Eijerkamp cock NL08-1101296NL08-1101296 was bought after he won 28th in the Final of the Dutch Open OLR in 2008. Father to the "Eijerkamp 296" is a grandson of Don Leo"Don Leo" and mother is granddaughter "Olympiade 003" to a cross between the best of the Van Loon lines with the top Heremans-Ceusters lines.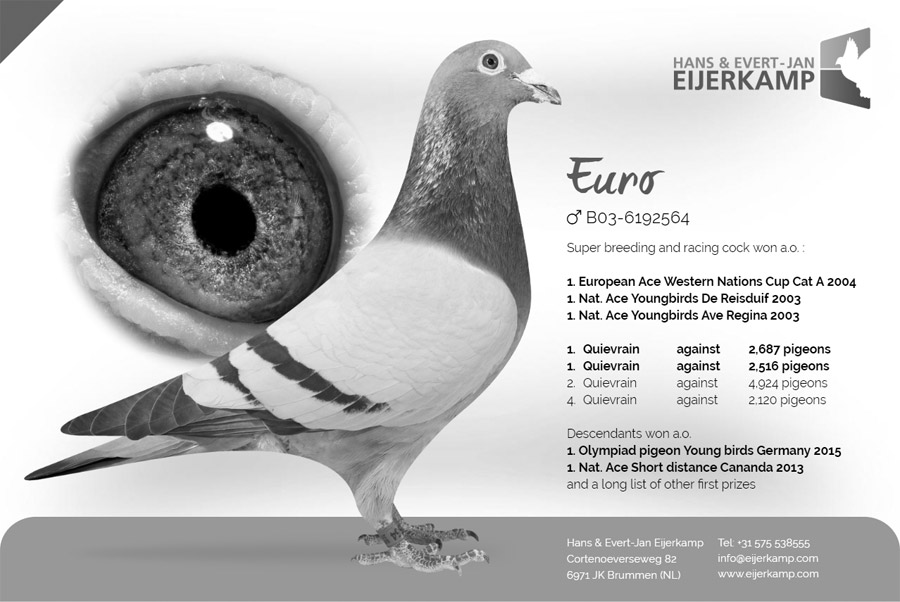 Don Leo
NL2001-5162009
Super breeder and winner of a.o.
4. Nat Acepigeon NPO One-Day Distance
4.
NPO Montluçon
11,330 pigeons
6.
NPO La Souterraine
7,923 pigeons
28.
NPO Argenton sur Creuse
8,916 pigeons

Descendants won a.o.
1. Olympiad pigeon Croatia Olympiad Cat A
1. Nat ACE Norway All-round
1. Nat ACE FRSC Short Distance
1. Nat ACE WEN Cup 2010 One-Day Distance
1. Provincial ACE Section 11 All-round
1.
Charleville
19,500 pigeons
1.
NPO Peronne
14,253 pigeons
1.
NPO Arras
6,304 pigeons
Hans & Evert-Jan Eijerkamp
Cortenoeverseweg 82
6971 JK Brummen (NL)Tel: +31 575 538555
info@eijerkamp.com
www.eijerkamp.com



In the meantime, the "Eijerkamp 296" NL08-1101296NL08-1101296 became father, grand- and great grandfather to winners and ace pigeons in the short- and middle-distance races.
The "Eijerkamp 296" is (grand)father in meantime to
1. against 439 pigeons
1. against 406 pigeons
1. against 399 pigeons
1. against 324 pigeons
1. against 309 pigeons
1. against 265 pigeons
2. against 1,998 pigeons etc. etc.


Some of the descendants for him that performed well in the 2021 season that we would like to present them to you;

"The Underdog", 4. Provincial Ace pigeon Middle Distance Afd. 2
This young cock, NL20-1584964 "The Underdog" is grandson of the "Eijerkamp 296" and "The Underdog" won 2x in the top 100 provincial in the middle distance in 2021 next to some more outstanding results leading to following results;
1. Ace pigeon Middle Distance Federation Westhoek "70
4. Prov. Ace pigeon Middle Distance Afd. 2
60. Prov. Pointoise 17,220 pigeons
62. Prov. Chateaudun 6,300 pigeons
"De Favoriet", 1. Ace pigeon Federation Natour / Speed
This cock, NL20-1584992 "De Favoriet", is bred out of a half-sister Underdog"Underdog", so again granddaughter to "Eijerkamp 296", and "De Favoriet" became in the 2021 season
1. Ace pigeon Natour / Speed Federation Westhoek "70
2. Ace pigeon Allround in Club
1. Niergnies 243 pigeons
29. Morlincourt 5,222 pigeons
81. Prov. Niergnies 13,225 pigeons
91. Prov. Morlincourt 10,746 pigeons


"Bonte 72", 3. Nat. Ace pigeon Short-distance Leadies League
This great- grandson of the "Eijerkamp 296", NL19-7008172 called "Bonte 72", won in the 2021 season a.o.
1. Ace pigeon Allround in Club
2. Ace pigeon Natour / Speed in the CLub
3. Nat. Ace pigeon Short Distance Ladies League
In this mother Jeanne is responsible as she, together with girlfriend Irit Gullit as well as son Dyvinio, are as fanatic in the pigeons as Edwin Deijkers is. At the end the whole family is crazy for the pigeons so pigeon talk always more than enough under their roof.




Irit Gullit, Edwin Deijkers, son Dyvinio and mother Jeanne Deijkers