Gerard Wolters - Stegeren, 1st Prov. Ace pigeon Youngsters with 50% Eijerkamp blood
Gerard Wolters from Stegeren is having 1st provincial Ace pigeon with the youngsters in Section 10 and this Ace is grandchild for 2 direct Eijerkamp pigeon which both are bred from the superb lines of the Van Loon and Koopman which Hans Eijerkamp has. A superb performance for Gerard as she was the best from all 14,515 pigeons started in this section 10, which is situated in the north of the Netherlands.

The performances for the NL21-1537779 achieved in district 6 are
1. Chalons en Champagne 418 km 415 pigeons
5. Burdinne 239 km 1,384 pigeons
21. Weert 153 km 1,378 pigeons
26. Echternach 302 km 1,038 pigeons
129. Gennep 100 km 1,538 pigeons
168. Reims 404 km 738 pigeons
214. Kalkar 85 km 1,360 pigeons
This resulted for her in becoming
1. Provincial Ace pigeon Young in Section 10
1. Regional Ace pigeon Young in district 6


Father: NL20-1087183 and bred by partnership Jurjens-Bakker out of the NL19-1412166NL19-1412166 who is cross between the very best lines of the Van Loon and Koopman (Fabio"Fabio" - Chicago"Chicago" - Abel"Abel" - Tips"Tips") when paired to NL19-1249953 who is daughter for Seth"Seth", direct son Abel"Abel", when paired to his niece "Leonidas", daughter to Achilles"Achilles", brother to Abel"Abel" and father "Untamed Desert", winner of the 1st Final South African Million Dollar Pigeon Race in 2013.

The 166 is bred from a son of Carlos"Carlos" x Swarovsky"Swarovsky" when paired to "Gonny", a pure Van Loon bred from Junior Britt"Junior Britt", very good breeder and half-brother "Ché", when paired to "Benza", a daughter out of Abel"Abel" x Michelle"Michelle".
Carlos"Carlos" is one of the best sons of the famous "Ché" when paired to Tara"Tara", direct daughter for the "Kleine Dirk", foundation cock at Gerard Koopman while Swarovsky"Swarovsky" is direct daughter to the famous Tips"Tips", who is sensational breeder and inbred to the Kleine Dirk (G. & C. Koopman)"Kleine Dirk (G. & C. Koopman)" as well.
So here a mix for the golden Van Loon lines paired to the best of Koopman.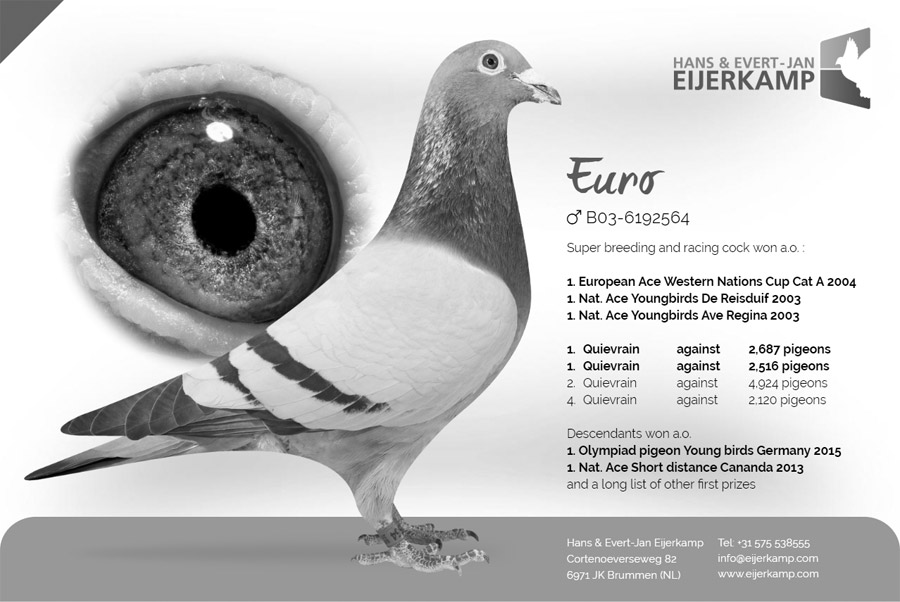 Carlos
NL2007-1369948
"Carlos"
is winner of
1.
Chateauroux Parc.
1,375 pigeons
3.
NPO Chateauroux
2,407 pigeons
12.
NPO Gien
3,987 pigeons
15.
Orleans
3,223 pigeons
20.
Bourges
1,655 pigeons
"Carlos" is (grand)grandfather to


1. Who Dares Wins OLR One Loft race


3. Nat Acepigeon Middle Distance Croatia
1.
Quievrain
2,135 pigeons
1.
Breuil le Vert
1,544 pigeons
1.
Kutubdia
1,363 pigeons
1.
St. Job in 't Goor
1,268 pigeons
2.
Venlo
9,635 pigeons
3.
NPO Orleans
5,582 pigeons
Hans & Evert-Jan Eijerkamp
Cortenoeverseweg 82
6971 JK Brummen (NL)Tel: +31 575 538555
info@eijerkamp.com
www.eijerkamp.com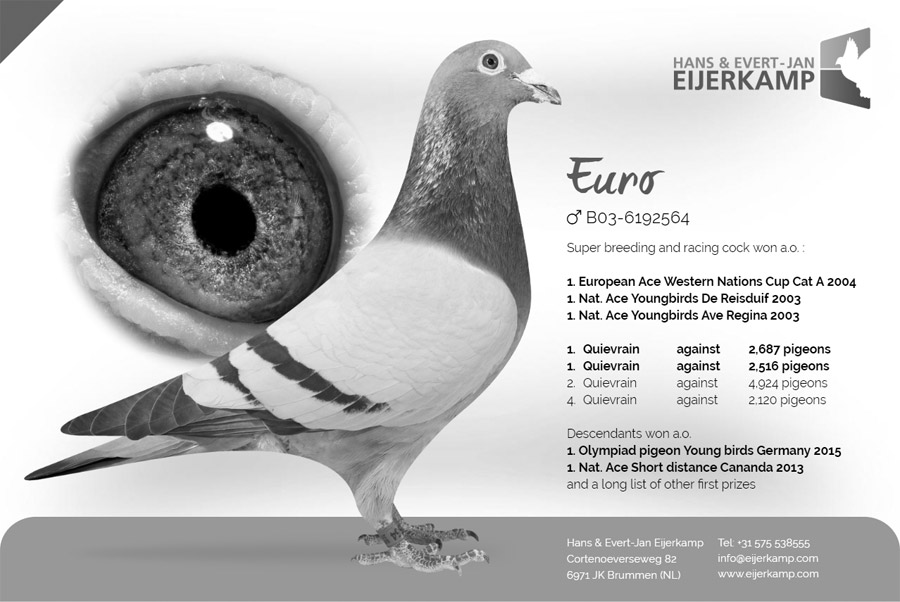 Abel
NL2003-1911663
Son "
Chicago
" x "
Miss Saigon
" won a.o.
3. Nat. Car Winner yearling Best of the Best 2004
2.
Niergnies
8,614 pigeons
3.
St. Quentin
6,402 pigeons
4.
Boxtel
11,821 pigeons
4.
Tessenderlo
8,123 pigeons
8.
Orleans
4,048 pigeons
Descendants to "Abel" won a.o.
1.
1.
1.
1.
Nat ACE Young Birds Croatia 2013
Nat ACE Short Distance Croatia 2010
Acepigeon Young Birds Romania 2009
Nat ACE All-round Romania
1.
Barlad
13,883 pigeons
1.
NPO Menen
12,057 pigeons
1.
Vervins
6,240 pigeons
Hans & Evert-Jan Eijerkamp
Cortenoeverseweg 82
6971 JK Brummen (NL)Tel: +31 575 538555
info@eijerkamp.com
www.eijerkamp.com