Jo and Raf Herbots – Halle-Booienhoven (B) winning 1.Prov. Vierzon against 2,752 pigeons with grandson Euro
The colony of the Herbots family from Halle-Booienhoven (Belgium) is running at the highest speed, as their racing team came home from Vierzon like a train again and they showed that they have the skills, the pigeons and the caretakers to make the difference as they now have both fastest pigeons in the Provincial race of Vierzon. Vierzon again was a tough race with just under 1,300 m.p.m. for the first pigeons and Jo and Raf Herbots winning 1st Prov. Vierzon against 1,497 pigeons (+ fastest 4,249 pigeons) with the old pigeons and 1st Prov. Vierzon with the yearlings and this winning yearling is a granddaughter of the worldfamous Euro"Euro". This Yearling also was 2nd fastest provincial Vlaams-Brabant against 4,249 pigeons.

Jo Herbots showing the yearling winner

At the end the result for Jo and Raf Herbots was superb with as well the old as yearling pigeons winning;
Provincial Vierzon Yearlings
1,2,19,43,48,65,104,108, etc. against 2,752 pigeons 21/34 (62 %)
Provincial Vierzon Old birds
1,10,12,27,69,74, against 1,497 pigeons 17/19 ( 89%)

The eye and the wing of the provincial winner

BE21-2130403, 1st Provincial Vierzon 2,752 pigeons

First provincial and 2nd fastest against 4,249 pigeons won by this yearling hen, BE21-2130430, a direct daughter of Olympic Euro"Olympic Euro", NL16-1255873NL16-1255873, who is direct son of the legendary Euro"Euro" when paired to "Celine", daughter to Nieuwe Olympiade"Nieuwe Olympiade" X "Rosie". The father was picked and selected by Jo Herbots on the Eijerkamp lofts and is one of the last children of the Euro"Euro", who stopped fertilizing after the season when he was paired to a daughter of another Leo Heremans legend; Nieuwe Olympiade"Nieuwe Olympiade".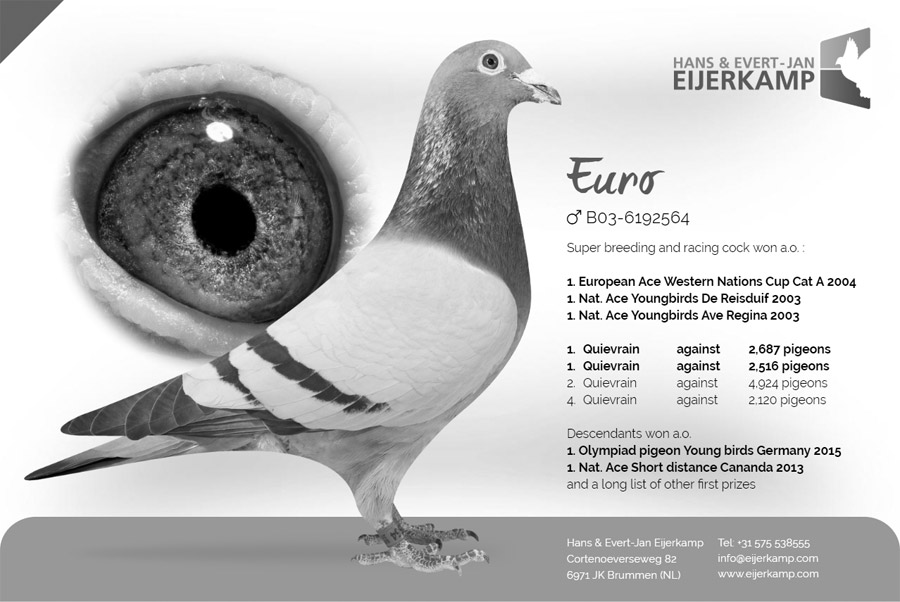 Euro
B2003-6192564
Super breeding and racing cock won a.o. :
1. European Ace Western Nations Cup Cat A
1. Nat. Ace Youngbirds De Reisduif 2003
1. Nat. Ace Youngbirds Ave Regina 2003
| | | | |
| --- | --- | --- | --- |
| 1. | Quievrain | against | 2,687 pigeons |
| 1. | Quievrain | against | 2,516 pigeons |
| 2. | Quievrain | against | 4,924 pigeons |
| 4. | Quievrain | against | 2,120 pigeons |
Descendants won a.o.
1. Olympiad pigeon Young birds Germany 2015
1. Nat. Ace Short distance Cananda 2013
and a long list of other first prizes
Hans & Evert-Jan Eijerkamp
Cortenoeverseweg 82
6971 JK Brummen (NL)Tel: +31 575 538555
info@eijerkamp.com
www.eijerkamp.com