Youngbird specialist Freek Wagenaar from Voorst winning 1-2-3 Heusden-Zolder against 4,930 pigeons with high percentage of Eijerkamp blood
F
reek Wagenaar from Voorst is only racing youngbird races due to allergy problems but this he does with so much energy, passion and efforts that every year, he is the fancier, in district Northeast in Amalgamation 8, to be beaten. Now the start of his specialty again was undoubtable as Freek Wagenaar won 1st, 2nd and 3rd Heusden-Zolder (139 km) against 4,930 pigeons. All 3 winning pigeons having a high percentage of Eijerkamp blood in their veins and they were the only 3 pigeons who reached a velocity over 1,200 m.p.m. in this tough start of the youngbird season 2022.

NL22-8225948, 1st Beek en Donk against 4,930 pigeons
The winners arrived all together but this cock was the first one on the trap and with a speed of 1,216 m.p.m crowned as winner of the race. He is 75% Eijerkamp blood bred out of a direct Eijerkamp, NL20-1202826NL20-1202826, while the mother is bred from another direct Eijerkamp who is pure W.A. de Bruijn. The father, NL20-1202826NL20-1202826, is a not too big a pigeon, but he is an extremely smart pigeon bred from a direct W.A. de Bruijn cock, "Son Adonis", and its mother is direct from Andre and Bert Leideman and daughter of their "Crack 19". The NL20-1202826NL20-1202826 only raced as youngster winning a.o. 8. Nanteuil - 1,555 pigeons, 18. Chimay - 4,275 pigeons, 19. Bierges - 5,084 pigeons.


The mother of the winner is bred out of the NL20-1202822NL20-1202822, pure W.A. de Bruijn and bred at the Eijerkamp lofts out of 'Willem', son of 'Murphys Law', x 'Carisma', who is daughter of champion 'Stefaan', a massive winner in the loft of Willem de Bruijn. The NL20-1202822NL20-1202822 is Co-winner of the 1st National Championship NPO Youngbirds which Freek Wagenaar won in the 2020 season and in this he was mated to 'Janneke', a good breeding hen of Bram Scherpenzeel from Twello.




NL22-8225941, 2nd Beek en Donk against 4,930 pigeons
Beaten with just a second this cock, 'Vincent' winning silver. He also has a high percentage of Eijerkamp blood in his pedigree as on fathers' side almost only top names to be found like Nieuwe Olympiade"Nieuwe Olympiade", Bartoli"Bartoli", Celena"Celena",Ché"Ché" and again 'Janneke' from club- and team mate Bram Scherpenzeel. The mother is daughter to 'Olympic Frank' who won 2x 1st prize as youngster and who will represent the Netherlands at the Romania Olympiad in 2022 in Cat. F Youngsters. The 'Olympic Frank' carrying two times the blood lines of Bartoli"Bartoli", via the NL09-1836154NL09-1836154. Also, the grandparents of the father are both direct Eijerkamp pigeons NL13-1801250NL13-1801250, a full brother Celena"Celena" and NL10-1271959NL10-1271959 a pure Heremans-Ceusters.



NL22-8225950, 3rd Beek en Donk against 4,930 pigeons
The bronze medal going to another cock who is 50% Eijerkamp as the father is direct son of NL20-1202821NL20-1202821. The NL20-821 is daughter to 'Becky', a direct W.A. de Bruijn hen, who won 1st Sezanne against 4,195 pigeons at the lofts of Hans and Evert-Jan Eijerkamp. Mother to the NL22-950 is bred from top breeder NL17-1821532NL17-1821532, who is direct son Turbo Olympiade"Turbo Olympiade" again paired with 'Janneke'.

A high percentage of Eijerkamp blood also in the lofts for Freek Wagenaar in these 3 winners and because of his allergy all his breeders are kept with his two friends Sander Hulleman and Bram Scherpenzeel who are doing all the breeding for his youngbird team. As you can see again, they done it again to supply Freek Wagenaar pigeons which can make the difference, pigeons that can win and again this is a proof that the chain is as strong as the weakest link in Team Freek Wagenaar.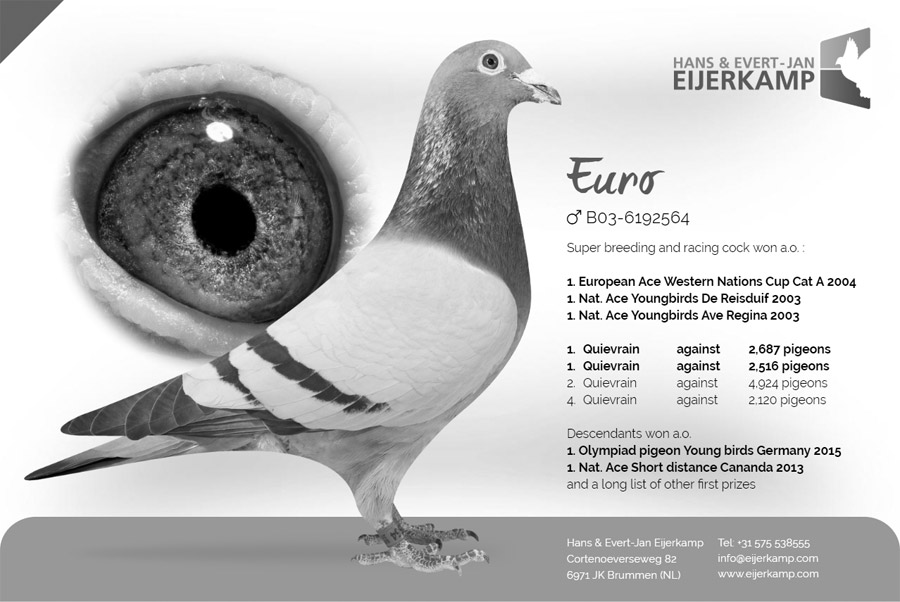 Turbo Olympiade
NL2013-1804797
"Turbo Olympiade"
is father
| | | |
| --- | --- | --- |
| 1. | NPO Laon | 11,179 pigeons |
| 1. | Tongeren | 2,802 pigeons |
| 1. | Nanteuil | 752 pigeons |
| 1. | Quievrain | 3,327 pigeons |
| 2. | Isnes | 5,079 pigeons |
| 2. | Chalons en Champagne | 3,282 pigeons |
| 3. | Nanteuil le Haudouin | 2,211 pigeons |
| 3. | NPO Nanteuil | 7,509 pigeons |
| 4. | Chimay | 7,048 pigeons |
| 6. | Bierges | 7,088 pigeons |
| 7. | Pithiviers | 1,890 pigeons |
| 9. | Laon | 1,959 pigeons |
| 10. | Niergnies | 2,221 pigeons |
| 15. | Prov. Laon | 9,815 pigeons |
Son
'Nieuwe Olympiade' x 'Celena'
Hans & Evert-Jan Eijerkamp
Cortenoeverseweg 82
6971 JK Brummen (NL)Tel: +31 575 538555
info@eijerkamp.com
www.eijerkamp.com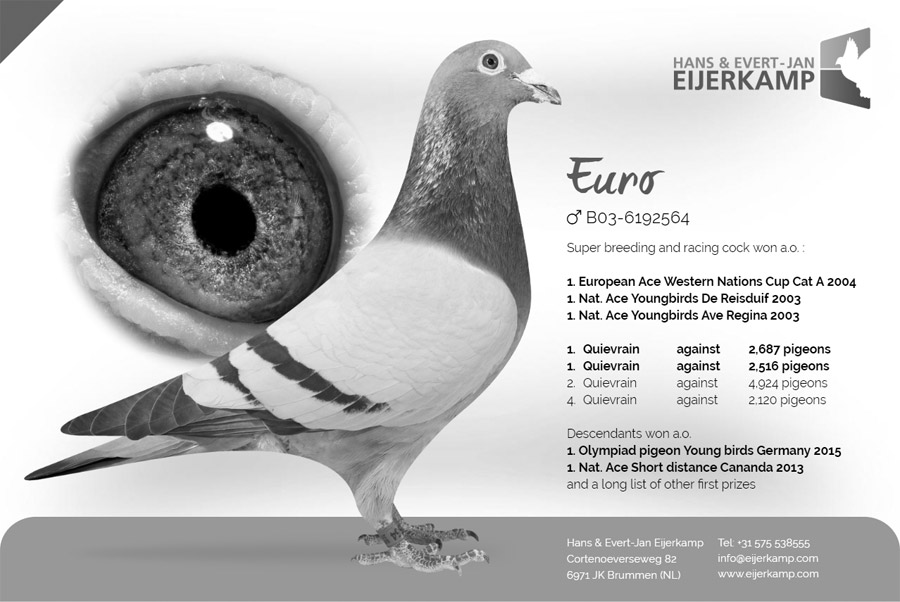 Celena
NL2010-1274037
Granddaughter "
Don Leo", "Celena" won a.o.
1.
NPO Peronne
14,253 pigeons
2.
Blois
1,614 pigeons
3.
NPO Orleans
5,014 pigeons
11.
NPO Blois
4,310 pigeons
15.
Pommeroeul
5,197 pigeons
19.
NPO Tours
2,924 pigeons
Descendants to "Celena" won a.o.
1.
Pt St Maxence
1,228 pigeons
1.
Pt St Maxence
1,147 pigeons
2.
Isnes
5,079 pigeons
2.
Chalons en Champagne
3,282 pigeons
3.
Nanteuil le Haudouin
2,211 pigeons
3.
Quievrain
1,350 pigeons
4.
Chimay
7,048 pigeons
Hans & Evert-Jan Eijerkamp
Cortenoeverseweg 82
6971 JK Brummen (NL)Tel: +31 575 538555
info@eijerkamp.com
www.eijerkamp.com