Double regional victory for Caktaš and Luka Aljoša from Split (Croatia) with 100% Eijerkamp pigeon bred from grandson Euro and granddaughter Claudio Ché (UPDATE)
A double victory for Caktaš and Luka Aljoša from Split (Croatia) who now are winning two regional races, 2 weeks in a row, from Bled (Slovenia) with the same pigeon !!!! Bled is covering a distance of 366 km and the races were held against 815 pigeons and 587 pigeons. The winner of these races is the CRO19-06052, who made a speed of 1,413 m.p,m in the first one and 1,123 m.p.m. in the final race of the season. A few weeks ago, Caktaš and Luka Aljoša alreadyalready won another regional race from Novo Mesto. Both winners are pure Eijerkamp pigeons as Caktaš is true admirer of the Eijerkamp pigeons and besides that he also is a very good pigeon friend of Evert-Jan. The winner now is bred from a grandson Euro"Euro" (Heremans-Ceusters) when paired to a granddaughter Kain"Kain" (Janssen X Van Loon). Like two weeks ago this also was a fantastic strong race and pigeons were already released at morning dawn 05.30 hrs. and it took the winner just over 4 hours to reach its loft at father and son Aljoša.
CRO19-06052, Double regional winner Bled against 815 and 587 pigeons
This double winner is bred from NL18-1629318NL18-1629318, a pure Heremans-Ceusters and grandson of the Euro"Euro" bred from 'Last Peter' X 'Witpen Euro'. 'Last Peter' is the last child bred from"Peter", who was proclaimed 2nd National Ace pigeon Short-Distance in 2003 Ave Regina for the partnership Heremans-Ceusters. 'Witpen' Euro' is daughter of the legendary "Euro" when he was paired to 'Caprio 592 Hen', daughter of the famous 'Di Caprio' of the late Dirk van Dyck.
The mother to this winner is another original Eijerkamp, NL17-1820943NL17-1820943, which is bred from the superb Janssen and Van Loon lines as she is daughter of 'New Flits' (Son Kain"Kain" X granddaughterFlits 85"Flits 85") X 'Mirna', a fantastic breeding hen and daughter of Claudio Ché"Claudio Ché" X Celena"Celena". So, all main pigeons, winners and aces in this hen which is true example of the best Eijerkamp-Van Loon and Eijerkamp-Janssen there is.

CRO21-38061, 1st Novo Mesto against 1,103 pigeons
The winner 3 weeks ago was a cross from the Eijerkamp-Van Loon with Eijerkamp-Janssen.
The father and son partnership were winner in this regional race against 1,103 pigeons. The winner is bred from one of the best couples in the loft as they are already parents and grandparents to several winners. The father is 'Jimmie', NL14-1605751NL14-1605751, a pure Van Loon cock and grandson of the foundation cock Chicago"Chicago". The mother for 'Jimmie' is a daughter of Streetfighter"Streetfighter" x Kentucky"Kentucky", the super breeding pair who are parents and grandparents to many top pigeons. Mother is CRO14-07488, a super hen in the loft and she is also mother to several top pigeons and winners. She was bred by his good friend Branko Gorupec, out of the foundation cock of Branko, the NL05-2105119NL05-2105119, when paired to his own daughter.



Good friends united !!!! from left to right; Evert-Jan Eijerkamp, Ivan Vranjes, Luka and Caktaš Aljosa and Branko Gorupec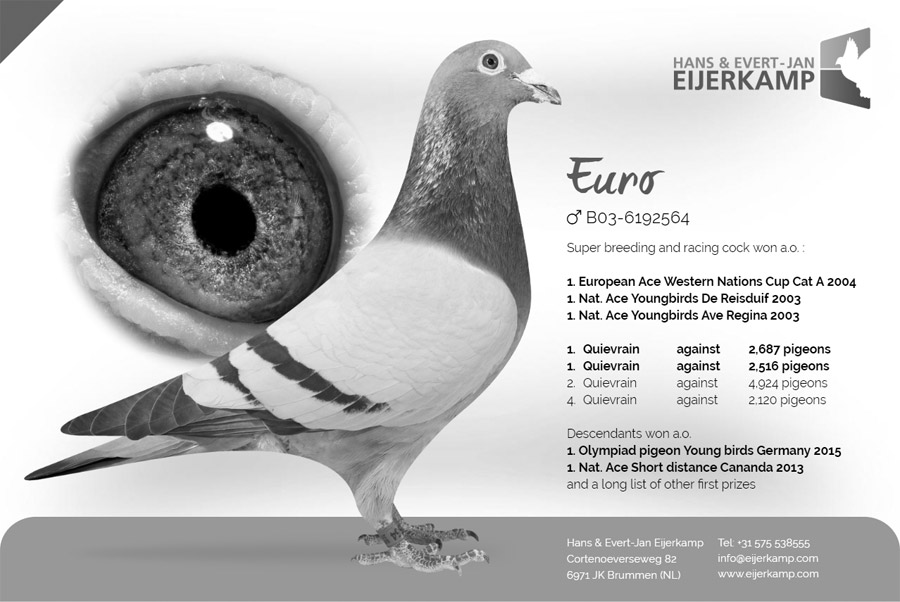 Claudio Ché
NL2013-1801609
"Claudio Ché"
is winner of
1. Nat ACE Yearling WHZB All-round 2014


4. Nat. ACE pigeon All-round WHZB 2014


1. Provincial ACE One-Day Distance Afd. 8
| | | |
| --- | --- | --- |
| 8. | Soissons | 1,932 pigeons |
| 13. | NPO Bourges | 3,090 pigeons |
"
Claudio Ché
" is grandfather to
1. Provincial Ace Long Distance Section 8 2017
| | | | |
| --- | --- | --- | --- |
| 1. | NPO Fay aux Loges. | 9,218 pigeons | 548 km |
| 2. | Pithiviers | 1,890 pigeons | 520 km |
| 3. | NPO Troyes | 3,836 pigeons | 449 km |
| 5. | Interprov. Blois | 1,707 pigeons | 608 km |
| 9. | NPO Peronne | 5,900 pigeons | 332 km |
| 10. | NPO Pithiviers | 3,435 pigeons | 565 km |
Hans & Evert-Jan Eijerkamp
Cortenoeverseweg 82
6971 JK Brummen (NL)Tel: +31 575 538555
info@eijerkamp.com
www.eijerkamp.com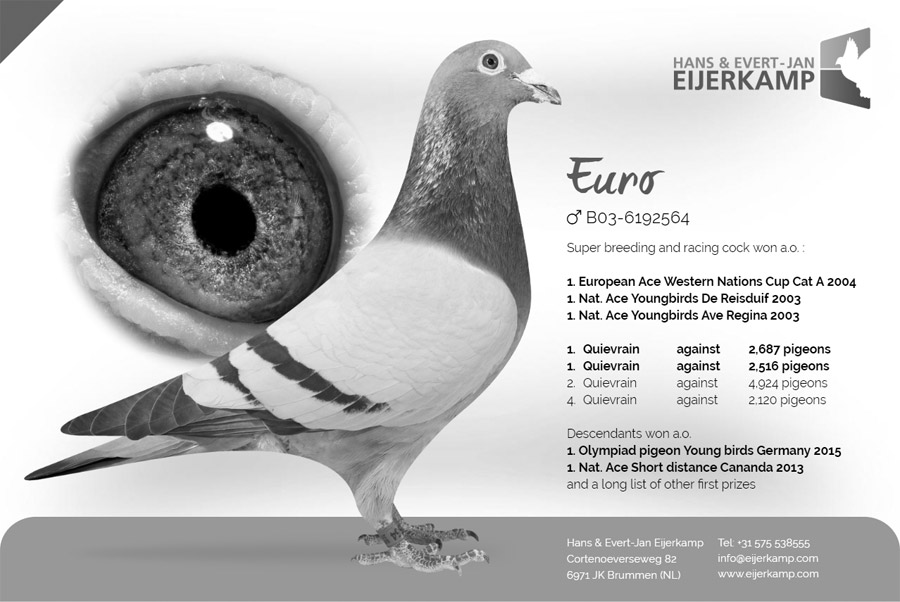 Celena
NL2010-1274037
Granddaughter "
Don Leo", "Celena" won a.o.
1.
NPO Peronne
14,253 pigeons
2.
Blois
1,614 pigeons
3.
NPO Orleans
5,014 pigeons
11.
NPO Blois
4,310 pigeons
15.
Pommeroeul
5,197 pigeons
19.
NPO Tours
2,924 pigeons
Descendants to "Celena" won a.o.
1.
Pt St Maxence
1,228 pigeons
1.
Pt St Maxence
1,147 pigeons
2.
Isnes
5,079 pigeons
2.
Chalons en Champagne
3,282 pigeons
3.
Nanteuil le Haudouin
2,211 pigeons
3.
Quievrain
1,350 pigeons
4.
Chimay
7,048 pigeons
Hans & Evert-Jan Eijerkamp
Cortenoeverseweg 82
6971 JK Brummen (NL)Tel: +31 575 538555
info@eijerkamp.com
www.eijerkamp.com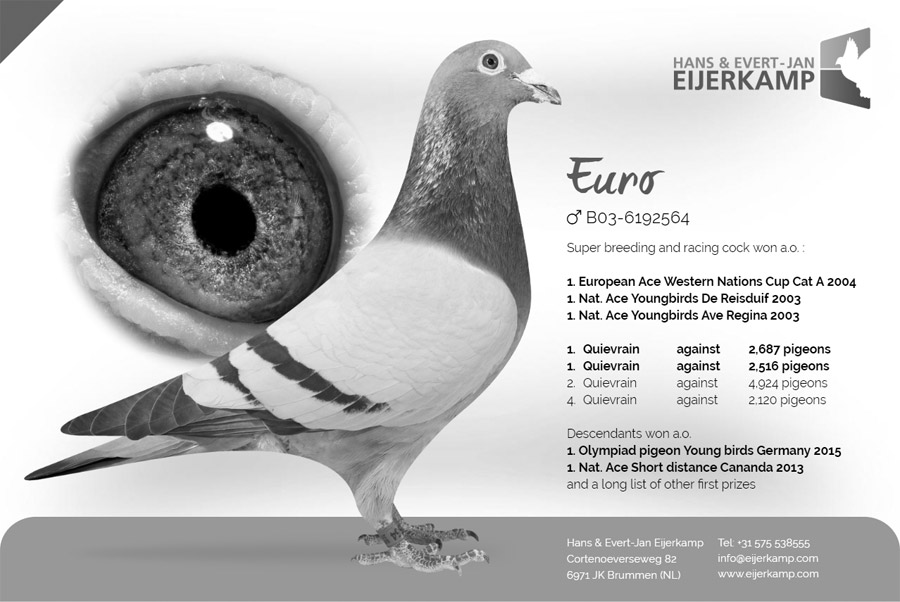 Kaïn
NL2003-1911662
Son "
Chicago
"
Kain"
is a.o. winner of the following prizes
1.
Peronne
5,535 pigeons
2.
Strepy Thieu
8,468 pigeons
5.
Haasrode
7,848 pigeons
9.
St. Ghislain Hornu
2,486 pigeons

"Kain" is grandfather
1.
Breuil le Vert
7,793 pigeons
1.
NPO Nanteuil le Haudouin
7,331 pigeons
1.
NPO Bourges
6,187 pigeons
1.
NPO Gien
5,615 pigeons
1.
NPO Bourges
4,863 pigeons
1.
NPO Peronne
5,900 pigeons
1.
NPO Blois
4,863 pigeons
Hans & Evert-Jan Eijerkamp
Cortenoeverseweg 82
6971 JK Brummen (NL)Tel: +31 575 538555
info@eijerkamp.com
www.eijerkamp.com