Hans and Evert-Jan Eijerkamp winning 3 - 22 - 35 in hard final 500 km Derby Zagreb OLR
The Derby started with 1,568 pigeons collected from all parts of Europe to compete each other in the area of Zagreb in Croatia. In the training and in the Hot Spot Races some of the Eijerkamp pigeons did already well but everything and everybody always is focused on the results in the final race which was held Saturday, September 24th. The remaining 626 pigeons were released in Ofeherto at 7.30 hrs. in a distance of 500 km. The route for the pigeons through Hungary to Zagreb was with wind on the nose and at the end the Spanish winner was clocked with a speed of 1,199 m.p.m. AT the end of the day only 86 pigeons reached the lofts in Zagreb including 4 Eijerkamp pigeons winning 3-22-35 and 80 position.

6 pigeons in First drop
The pigeons released at 7.30 hours for this final race and 6 pigeons in the first drop arrived at 14.26 hours. The NL22-8229027 was clocked in 3rd position just beaten by a Spanish and other Dutch pigeon.




NL22-8229027 , 3rd Final Derby Zagreb OLR
In the genes for the 3rd prize winner all the major lines can be found. The father is "Triple 2", NL20-1248222NL20-1248222, who is bred from "Neutrino" X Catherine"Catherine", so a cross from the super Janssen – Van Loon lines with the lines of Gerard and Bas Verkerk. "Neutrino" is a proven breeder and son of the famous Streetfighter"Streetfighter" when paired to super hen Indy"Indy". Catherine"Catherine" is another topbreedster at the Eijerkamp lofts and granddaughter of Olympic Solange"Olympic Solange".
The mother is Lacasa"Lacasa", NL15-1362538NL15-1362538, who is a cross of the best of the Heremans-Ceusters x Stefaan Lambrechts as she is bred from Hawk"Hawk", son of Lichte Blauwe"Lichte Blauwe" X Olympic Vivian"Olympic Vivian". The mother is "Penelope", a direct hen of Stefaan Lambrechts.




NL22-8229165NL22-8229165, 22nd Final Derby Zagreb OLR
The 2nd Eijerkamp pigeon also is blessed with super genetic as he is 60% Heremans-Ceusters and furthermore some lines for the Verkerk, Lambrechts, Hooymans and Tjeerdsma in this pigeon. The father is "Monsieur", NL19-3951031NL19-3951031, who is son of Outlaw"Outlaw" who is massive winner and direct son of Vetblauwe Jackpot"Vetblauwe Jackpot". The mother to the NL22-8229165NL22-8229165 is NL21-1668116NL21-1668116 who is granddaughter of Nieuwe Olympiade"Nieuwe Olympiade" as well as again the Vetblauwe Jackpot"Vetblauwe Jackpot".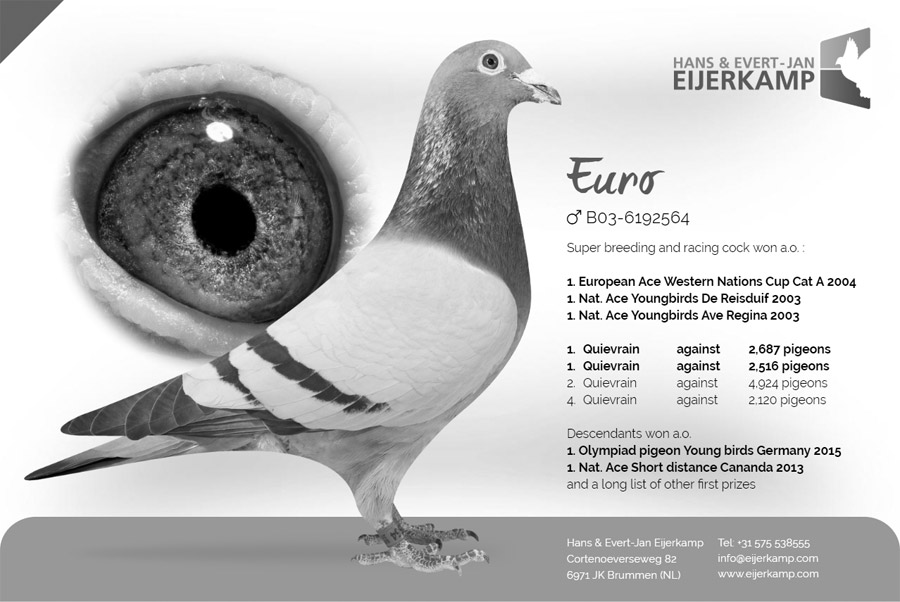 Outlaw
NL2017-1820362
"
Outlaw
" is winner of
19. Nat. ACE Middle Distance WHZB 2019
| | | |
| --- | --- | --- |
| 1. | Prov. Morlincourt | 23,392 pigeons |
| 5. | Morlincourt | 2,068 pigeons |
| 12. | Boxtel | 2,396 pigeons |
| 14. | Quievrain | 1,566 pigeons |
| 15. | Prov. Reims | 6,950 pigeons |
| 15. | NPO Fay aux Loges | 9,218 pigeons |
| 22. | Tienen | 2,469 pigeons |
| 23. | Nanteuil | 1,709 pigeons |
| 24. | Sezanne | 2,245 pigeons |
Son 'Vetblauwe Jackpot' x 'Tonya'
Hans & Evert-Jan Eijerkamp
Cortenoeverseweg 82
6971 JK Brummen (NL)Tel: +31 575 538555
info@eijerkamp.com
www.eijerkamp.com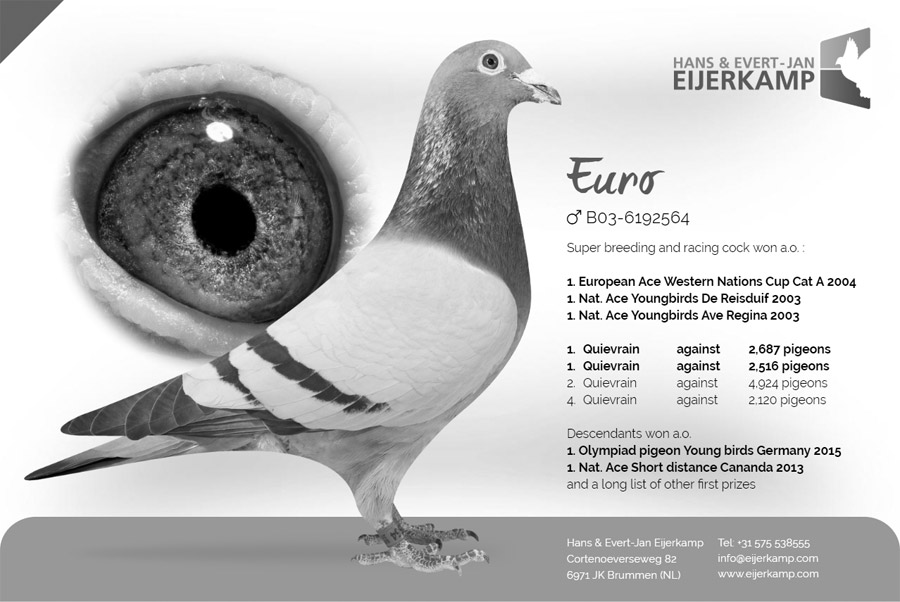 Vetblauwe Jackpot
NL2012-4148200
"Vetblauwe Jackpot"
is (grand)father
1. Nat. Ace Yearlings De Allerbeste 2019
1. Nat. Ace Long Distance Romania 2017
| | | |
| --- | --- | --- |
| 1. | Prov. Morlincourt | 23,392 pigeons |
| 1. | Prov. Soissons | 14,730 pigeons |
| 1. | Prov. Morlincourt | 8,903 pigeons |
| 1. | Niergnies | 7,042 pigeons |
| 1. | Abda | 5,910 pigeons |
| 1. | Nat. Dizy le Gros | 5,591 pigeons |
| 1. | Tabor | 2,285 pigeons |
| 1. | Geel | 1,292 pigeons |
| 1. | Soissons | 1.249 pigeons |
| 1. | Chimay | 1,085 pigeons |
| 1. | Quievrain | 1,052 pigeons |
| 2. | Niergnies | 5,184 pigeons |
| 2. | Quievrain | 2,952 pigeons |
Hans & Evert-Jan Eijerkamp
Cortenoeverseweg 82
6971 JK Brummen (NL)Tel: +31 575 538555
info@eijerkamp.com
www.eijerkamp.com


NL22-8229080NL22-8229080, 35th Final Derby Zagreb OLR
Even when she was almost 50 minutes behind the first drop the NL22-8229080NL22-8229080 still winning 35th in this tough One Loft Race final. She is bred from "Mister X", NL20-1249681NL20-1249681, who is direct son to superhen Dafne"Dafne", who won herself twice first prize but also is mother to massive first prize winner in the meantime. The mother to NL22-080 is Ginny"Ginny", a proven Van Loon x Janssen A. racing- and breeding hen