Superb victory against 7,660 pigeons for Daniel Bizgan from Arad (Romania), bred from a granddaughter of Jackpot
Daniel Bizgan is once again on track this season as he immediately leaves his mark on the first races in the Arad federation in Western Romania. In 2022, Daniel already had an unprecedented season with several victories and top rankings among the national ace pigeons in Romania, thanks to the pigeons from Hans and Evert-Jan Eijerkamp. It was in 2008 when Daniel decided to invest in quality pigeons and approached Hans and Evert-Jan Eijerkamp. After witnessing the tremendous quality, Daniel purchased a number of pure Heremans-Ceusters pigeons from Henk Jurriens, all of which were grandchildren of the absolute foundation pigeons such as Nieuwe Olympiade"Nieuwe Olympiade", Olympic Leo"Olympic Leo", Euro"Euro", Jackpot"Jackpot", New Euro"New Euro", and Rossi"Rossi". It was a fantastic investment that bore fruit in the past seasons, and now, at the beginning of this season, he once again proves himself as one of the men to beat with a resounding victory from Level against 7,660 pigeons, once again with 50% Eijerkamp bloodlines.



RO22-54139, 1st Level against 7,660 pigeons
On this middle-distance race, flown on May 20th, this hen wins 1st Level (362 km) against 7,660 pigeons with nearly a minute lead over the 2nd place. This yearling hen is a half-sister of the 12th Provincial Ace Pigeon in Middle-distance and 14th Provincial Ace Pigeon in the Short-distance in 2022, both bred from the same father, NL18-1627639NL18-1627639 "Jackpot 639", who is a son of "Prins Charming", one of the last sons of the famous Jackpot"Jackpot" paired with a direct hen from Leo Heremans. The mother of RO22-54139 is a direct hen from the late Jan van de Pasch. In addition to the victory, with a speed of 1,210 m.p.m., the race was highly successful for Daniel with the following series: 1 – 3 – 12 – 25 – 26 - 30 and so on. The RO22-54139 won 3 prizes as a young pigeon, and this victory was also the 3rd prize card of this 2023 season. Among the notable prizes, in addition to this victory, 3rd Kecskemet against 610 pigeons and 17th Dabas against 1,985 pigeons.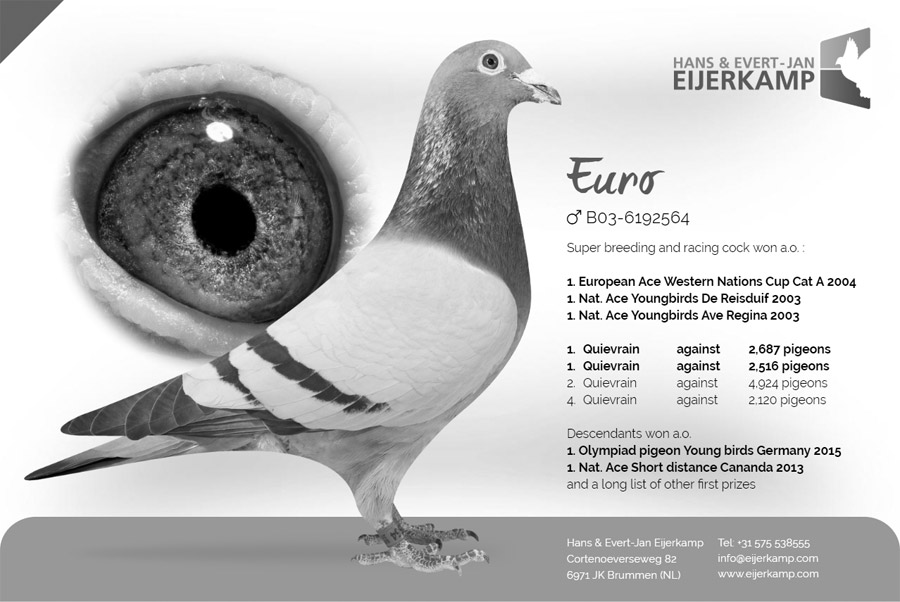 Jackpot 639
NL2018-1627639
Grandson 'Jackpot'

'Jackpot' is Nr. 1 son 'Olympiade 003'

'Jackpot' is father to
- 'Olympic Vivian', superracer and breedster
Olympiade pigeon Middle Distance Nitra
winner 3x first prize
- 'Di Caprio', superbreeder Dirk van Dijck
father to a.o. 'Olympic Niels'
- 'Jackpot Junior', superbreeder
father 1. Nat Ace Youngsters NPO 2018

Is father 1. against 7,660 pigeons at Daniel Bizgan

Hans & Evert-Jan Eijerkamp
Cortenoeverseweg 82
6971 JK Brummen (NL)Tel: +31 575 538555
info@eijerkamp.com
www.eijerkamp.com



Great result in Dabas, 2 - 3 - 4 - 6 - 9 against 3,555 pigeons
This short-distance race from Dabas (193 km) on May 2nd was one to remember, despite the victory being narrowly missed. With five top 10 rankings, 2nd, 3rd, 4th, 6th, and 9th, as well as 20th, 21st, 22nd, 25th, 27th, 28th and so on, against 3,555 pigeons, it was an outstanding performance. The top positions in the race featured a high percentage of Eijerkamp bloodlines.
The 2nd prize winner is the blue hen RO22-056196, once again a cross between the best of Jan van de Pasch paired with NL18-1627996NL18-1627996, a granddaughter of New Euro"New Euro", Olympic Vivian"Olympic Vivian", Rossi"Rossi", and Hellas"Hellas", representing the cream of the crop from the Heremans-Ceusters lines that are present in the Eijerkamp lofts. This hen already won 2nd prize in Kecskemet against 1,746 pigeons as a young bird last year.
The 3rd prize was achieved by RO21-096191, a yearling that has already shown its potential by becoming the 23rd National Ace Pigeon in Vitesse. This cock is once again bred from a cock from the late Jan van de Pasch paired with NL18-1629022NL18-1629022, a daughter of Magic Euro"Magic Euro" X "Jacqueline", a daughter of Jackpot"Jackpot". RO21-06191 is an absolute top pigeon with numerous early prizes, including 2nd Lajosmice against 842 pigeons, 4th Kecskemet against 5,480 pigeons, 6th Lajosmice against 1,990 pigeons, 10th Bicske against 2,833 pigeons, and many more.




The 4th prize goes to another cock, RO20-089236, bred once again from the golden combination of pigeons from the late Jan van de Pasch and Eijerkamp. The mother, NL18-1627776NL18-1627776, is bred from a son of Olympic Leo"Olympic Leo" paired with a daughter of Nieuwe Olympiade"Nieuwe Olympiade". In 2021-2022, RO20-089236 became the 3rd Ace Pigeon in Arad in the middle-distance. This season, from Level, she also won the 27th prize against 7,660 pigeons.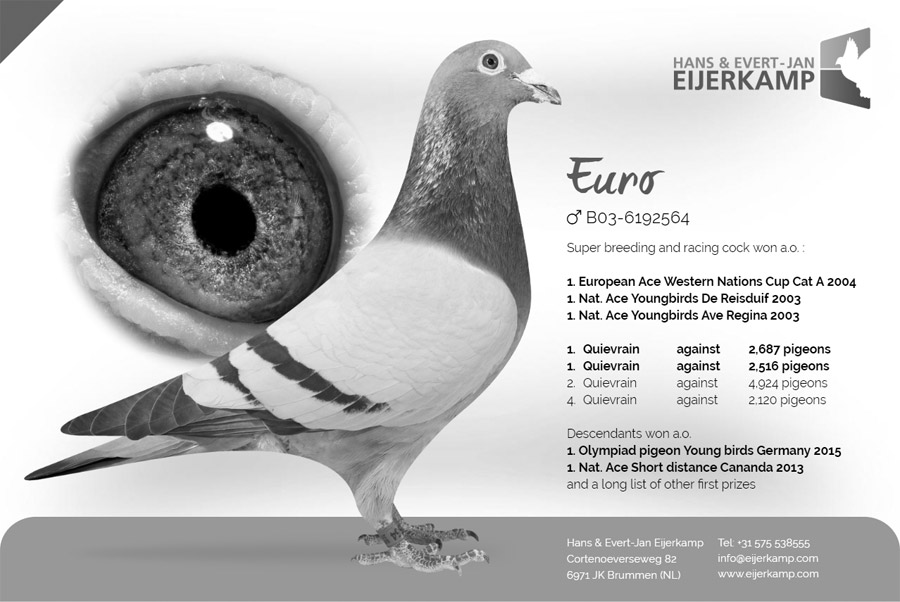 Ladina
NL2018-1627776
Granddaughter
"Olympic Leo"
who is winner :
1. Olympiad pigeon Germany Cat D
2. Nat Acepigeon Ace cock Germany All-round
| | | |
| --- | --- | --- |
| 1. | Kalisz | 3,756 pigeons |
| 1. | Neubrandenburg | 3,517 pigeons |
| 1. | Neubrandenburg | 1,050 pigeons |
Granddaughter
"Nieuwe Olympiade"
who won a.o.
2. Olympiad pigeon Poznan 2011 Olympiad Cat F
| | | |
| --- | --- | --- |
| 1. | Quievrain | 2,460 pigeons |
| 2. | Quievrain | 2,790 pigeons |
| 3. | Quievrain | 2,073 pigeons |
Hans & Evert-Jan Eijerkamp
Cortenoeverseweg 82
6971 JK Brummen (NL)Tel: +31 575 538555
info@eijerkamp.com
www.eijerkamp.com