Marco Zandvoort from Rijssen wins 1. Provincial Dizy le Gros against 8,965 pigeons with granddaughter of Solange Junior
The middle-distance race from Dizy le Gros resulted in a victory for Marco Zandvoort from Rijssen in section 9, as his pigeon NL21-1743023 was the fastest of the entire convoy of 8,965 pigeons with a speed of 1,341 m.p.m. This once again showcases the surprising abilities of the "Handy Harry" in the Dutch pigeon sport, as he consistently achieves victories on a large scale every season. Marco first became involved in pigeon racing at the age of 14 through a friend whose father owned pigeons, and from that point on, he was hooked and shifted his focus from fishing to pigeon racing. Marco Zandvoort is now a well-known figure in the Dutch pigeon sport, as many enthusiasts have had their breeding boxes, loft cabinets, and motivation boxes built by Marco (www.mazati.nl). The pigeon sport also fosters camaraderie, as Marco is a close friend of Gebr. Homma, Arnold Paalman, and Han Immink. The latter is also the breeder of the provincial winner from Dizy Le Gros, which was bred from a son of Solange Junior"Solange Junior". one of the top breeders in the Eijerkamp loft.




NL21-1743023, 1e Prov. Dizy le Gros
As mentioned, Marco was gifted this hen as a youngster in 2021 from Han Immink and in her birth year, she was only played on the natour races, where she managed to win 1 tail prize. As a yearling, she won 12 prizes, with her best result being 9th Quievrain against 1,759 pigeons. Now in 2023, she won 8 prizes out of the 10 races she was entered in. Her results in this season are as follows:
1. Prov. Dizy le Gros 8,973 duiven 347 km
39. Marche 1,472 duiven 245 km
68. Beek en Donk 3,350 duiven 103 km
78. Tongeren 2,939 duiven 181 km
86. Marche 1,570 duiven 245 km
143. Charlesvilles 1,958 duiven 310 km
174. Chalons 2,023 duiven 403 km
200. Dizy le Gros 2,646 duiven 347 km
Marco Zandvoort competes in Department 9, in CC 2, and only participates in races up to 500 km.




The winner was bred from NL20-1249332NL20-1249332, which is a half-brother of Olympic Jozef"Olympic Jozef", Olympiad pigeon 2022, as well as 1st National Ace Pigeon Mid-Distance and 1st National Ace Pigeon One-Day Long Distance in the Eijerkamp lofts. This NL20-1249332NL20-1249332 is a proven breeder, currently on the loft at Immink, as he is also the father of 2nd Provincial Beek en Donk against 13,846 pigeons, 3rd Provincial Marche against 15,887 pigeons, etc.
Han Immink obtained this 100% G and S. Verkerk cock in 2020 from H and E.J. Eijerkamp as he was born at the Greenfield Stud from Solange Junior"Solange Junior" X "Haribo", a granddaughter of Olympic Solange"Olympic Solange". Solange Junior"Solange Junior" is a son of Olympic Solange"Olympic Solange" and father of 8x Top 10 NPO winners, as well as the Olympic Jozef"Olympic Jozef". Solange Junior"Solange Junior" is also a grandfather of winners in races within the regular program as well as in the OLR races. A grandson of Solange Junior"Solange Junior" also bred the 8th NPO Chateauroux for Embregts-Theunis from Hoeven against 1,913 pigeons a week later.
The mother of the 21-1743023 is a hen from Lammert van Erp, which has its origins in the Van Loon pigeons from the late Leo v.d. Werf as well as Gerrit van Schaijk.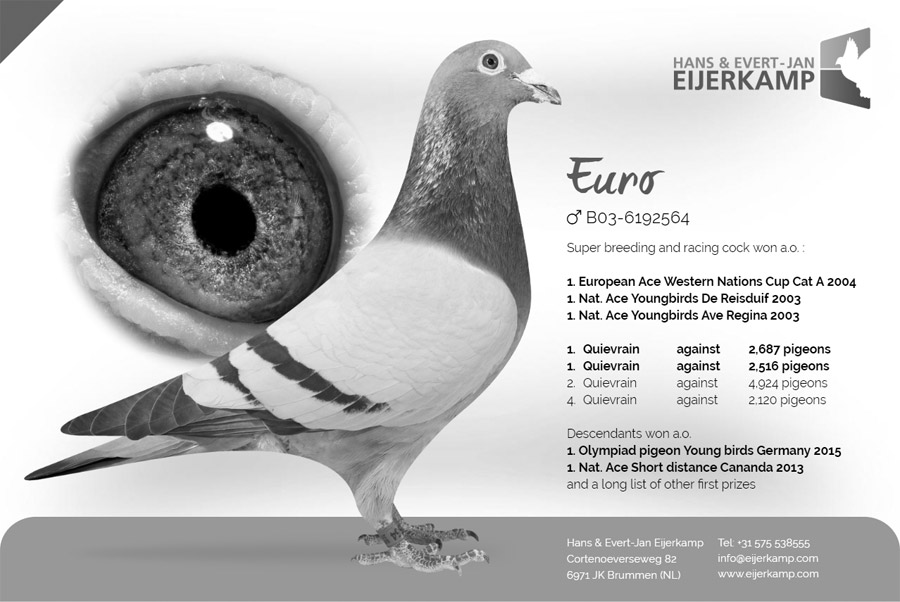 Solange Junior
NL2015-1706611
"Solange Junior"
is father 5x Top 10 NPO
1. Nat. Ace pigeon M.D. De Allerbeste 2020
1. Nat. Ace pigeon Long Distance WHZB 2020
| | | | |
| --- | --- | --- | --- |
| 2. | NPO Salbris | 4,671 pigeons | 599 km |
| 5. | NPO Chateaudun | 4,058 pigeons | 565 km |
| 5. | NPO Vierzon | 3,993 pigeons | 612 km |
| 7. | NPO Fay aux Loges | 5,735 pigeons | 548 km |
| 7. | NPO Troyes | 3,836 pigeons | 449 km |
| 8. | NPO Peronne | 5,900 pigeons | 332 km |
| 9. | NPO Issoudun | 1,726 pigeons | 647 km |
| 13. | NPO Fay aux Loges | 9,218 pigeons | 548 km |
| 15. | NPO Bourges | 5,856 pigeons | 620 km |
| 20. | NPO Nanteuil | 2,961 pigeons | 408 km |
Son
'OLympic Solange'
- G. & S. Verkerk
Hans & Evert-Jan Eijerkamp
Cortenoeverseweg 82
6971 JK Brummen (NL)Tel: +31 575 538555
info@eijerkamp.com
www.eijerkamp.com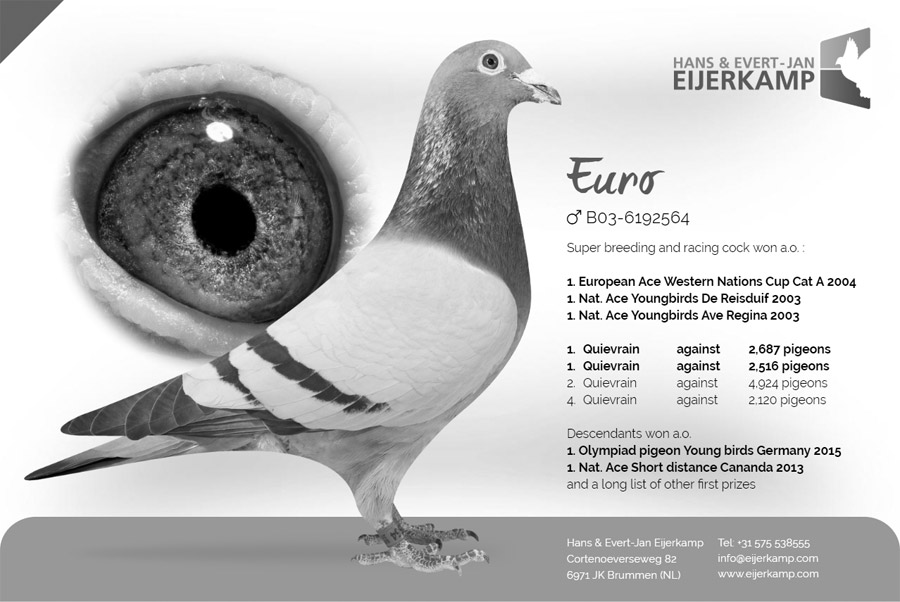 Haribo
NL2017-1277678
'Haribo'
is mother
| | | |
| --- | --- | --- |
| 6. | NPO Melun | 1,295 pigeons |
| 8. | Niergnies | 2,748 pigeons |
| 36. | NPO Nanteuil | 5,215 pigeons |
| 64. | NPO Troyes | 3,836 pigeons |
| | | |
Daughter
'Olympic Sofie',
Olympic pigeon for
Verkerk in Budapest Cat. H
Direct G. & S. Verkerk
Hans & Evert-Jan Eijerkamp
Cortenoeverseweg 82
6971 JK Brummen (NL)Tel: +31 575 538555
info@eijerkamp.com
www.eijerkamp.com