Rien Weijers, Groesbeek – 1. Tienen (126 km) against 4,521 pigeons.
Once again we receive a wonderful reference from Rien Weijers, with whom the Eijerkamp family has maintained a deccenia long friendship. This time the top hen "Bendy" triumphed in Region ZO Afd. 8 from Tienen. She was basketed as 1st nominated and made it true. With 1563 meters per minute she was faster than all other pigeons basketed for this release.
Rien and his son Bas have been breeding with direct pigeons from our loft in Brummen for many years. The base in their breeding loft is formed by the pigeons from the Janssen A. / van Loon lines and the Heremans pigeons. What to think of their famous wonder couple "Da Vinci" x "Miss Kaïn" (direct daughter Kain"Kain", direct H. & E.J. Eijerkamp ), which already gave 3x a 1st NPO and/or provincial on the one day long distance. Every year the breeding loft is completed with descendants of the top pigeons in Brummen, which are evaluated and coupled together with the Eijerkamp family in autumn.
Now it was also a success on the natour race from Tienen. Top pigeon "Bendy", whose father came from Peter Janssen (Kleve, D.), has 50% Eijerkamp blood from the old base.
Mother of "Bendy" is the "Late Gaudi", a cross of Loon x Heremans-Ceusters. The "Late Gaudi" is also mother of "Sil", which won a 1st prize on Quievrain against 8,015 pigeons.

This top breeding hen is bred out of NL10-1274033NL10-1274033 "Gaudi" (direct H. & E.J. Eijerkamp) which is a grandson of Fabio"Fabio" and Atilla"Atilla". "Gaudi" is already father of 10 first prize winners on the loft of Rien Weijers.
Mother of the "Late Gaudi" is "Euro 918", which is a direct daughter of the icon the Euro"Euro".
The Euro"Euro" needs no further introduction, top flyer on the loft of Heremans-Ceusters and after the total auction in 2007 a top breeder on the loft of Hans and Evert Jan Eijerkamp. "Euro 918" comes from the pairing Euro"Euro" x Mysterious"Mysterious". Also the nest brother of "Euro 918" (Euro Junior) is a top breeder and father and grandfather of several winners at large.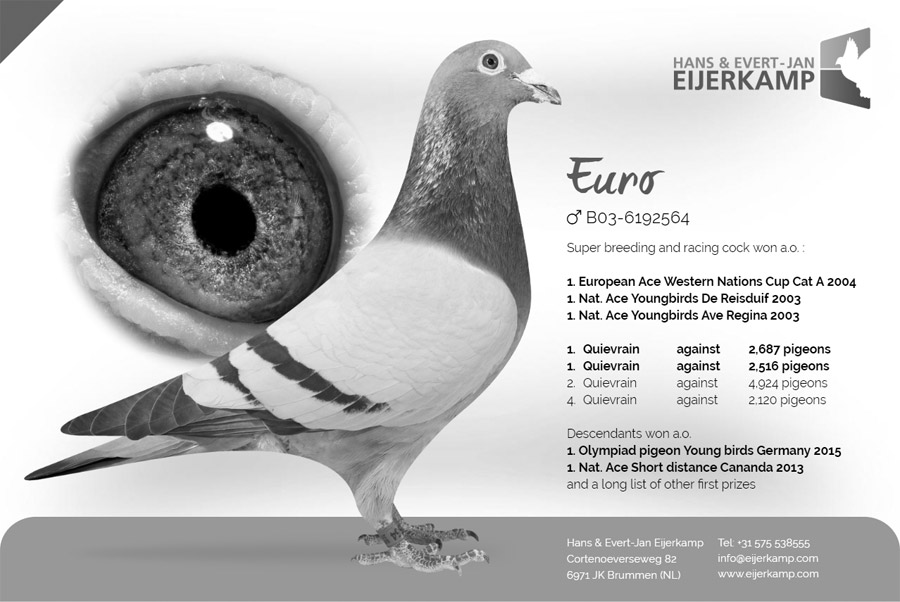 Euro
B2003-6192564
Super breeding and racing cock won a.o. :
1. European Ace Western Nations Cup Cat A
1. Nat. Ace Youngbirds De Reisduif 2003
1. Nat. Ace Youngbirds Ave Regina 2003
| | | | |
| --- | --- | --- | --- |
| 1. | Quievrain | against | 2,687 pigeons |
| 1. | Quievrain | against | 2,516 pigeons |
| 2. | Quievrain | against | 4,924 pigeons |
| 4. | Quievrain | against | 2,120 pigeons |
Descendants won a.o.
1. Olympiad pigeon Young birds Germany 2015
1. Nat. Ace Short distance Cananda 2013
and a long list of other first prizes
Hans & Evert-Jan Eijerkamp
Cortenoeverseweg 82
6971 JK Brummen (NL)Tel: +31 575 538555
info@eijerkamp.com
www.eijerkamp.com