Good result Barsha Loft in the Al Qudra One Loft Race
Barsha Loft participated in the Al Qudra One Loft Race with the DRPC19-1001947.
The DRPC19-1001947 has as great-grandmother on father's and mother's side Eijerkamp pigeon NL12-1230285NL12-1230285 "Miss Dubai" from NL10-1272073NL10-1272073 Sensire Euro"Sensire Euro" and NL11-1342723NL11-1342723 "Jody".
DRPC19-1001947 won the following prizes:
1st Al Faya 150 km. against 89 pigeons
10th Al Thabiya 250 km. against 73 pigeons
4th Al Sila 490 km. against 33 pigeons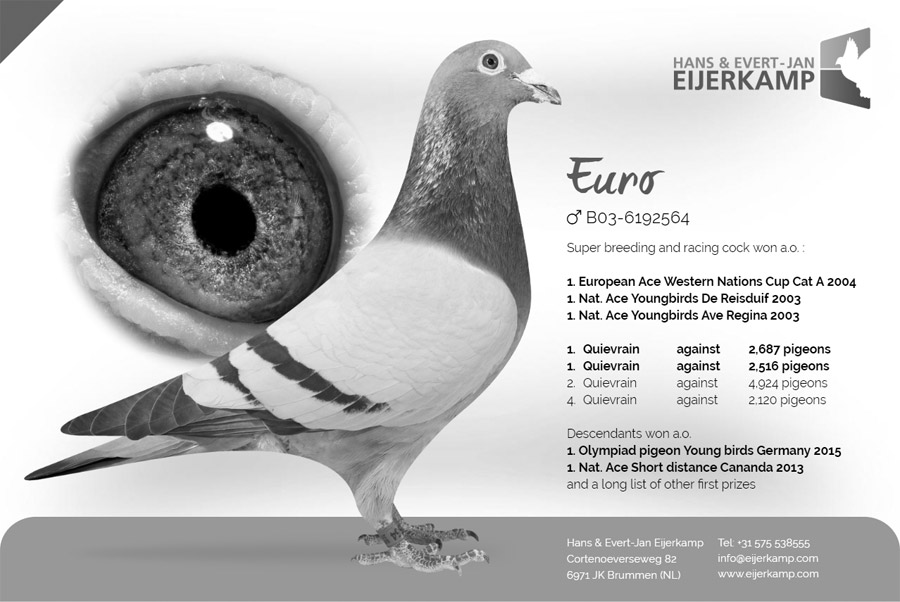 Sensire Euro
NL2010-1272073
Son super breeder "
Euro
"
Descendants of
"Sensire Euro"
won a.o.
| | | |
| --- | --- | --- |
| 1. | Weert | 1,973 pigeons |
| 1. | Duffel | 2,161 pigeons |
| 2. | Sittard | 16,739 pigeons |
| 4. | Sittard | 16,739 pigeons |
| 5. | Weert | 20,446 pigeons |
| 8. | Gennep | 2,119 pigeons |
Hans & Evert-Jan Eijerkamp
Cortenoeverseweg 82
6971 JK Brummen (NL)Tel: +31 575 538555
info@eijerkamp.com
www.eijerkamp.com