Hans & Evert-Jan Eijerkamp: 2nd Ace pigeon As Pigeons Golden Race OLR 2020
Hans & Evert-Jan only participate in a few One Loft Races in the world including the
As Pigeon Golden Race in Thessaloniki in Greece. In this derby 5 youngsters were sent to participate under the Greece sun in this OLR organized by the Aslanidis brothers.

The final race took place August 13th in a distance of 410 km in which 789 pigeons participated out of the original 1,400 pigeons who took part to this Derby which is one of the older OLR in Europe. At the end of the day Hans and Evert-Jan Eijerkamp finished 51st and 280th in the final

2nd Ace pigeon NL20-1248571NL20-1248571 "NL 571"
This cock became 2nd Acepigoen in the 5 Hot Spot races with following performances
3. against 1,141 pigeons - 167km
12. against 1,203 pigeons - 125km
44. against 958 pigeons - 280km
51. against 1,049 pigeons - 210km
51. against 789 pigeons - 410km (Final)
Father: NL19-1411147 "Dimitris", who is grandson to Harry (J.Hooymans)"Harry (J.Hooymans)" and the Wonder couple Barend J."Barend J." X Aniek"Aniek". The "Dimitris" is in the racing loft of Lotte Eijerkamp and won 9 prize cards as yearling including 4 out of 4 in the Long-Distance races. His best performances are
58. NPO Fay aux Loges / 5,735 pigeons, 59. Chalons / 5,141 pigeons, 64. Prov. Niergnies / 10,065 pigeons. Barend J."Barend J." X Aniek"Aniek" als are (grand)parents to many first prize winners and Ace pigeons on all levels. The Beetle"Beetle" also is granddaughter to this super breeding pair.

Mother: NL16-1253389NL16-1253389 "Ophalia", bred from the great lines of Martin and Joke Geven out of the lines of Rossi"Rossi" X Spinneke"Spinneke" and "No Limit", 1st Nat. Ace pigeon the Netherlands WHZB in 2004.

The NL20-1249062NL20-1249062 "NL062", who finished 280th position in the final, became 22nd Ace Pigeon in this OLR. The "NL062" is bred from a son of Special Kaïn"Special Kaïn" when paired to daughter "Luka Modric", the 1st Nat. Ace pigeon Youngsters in the Netherlands 2018.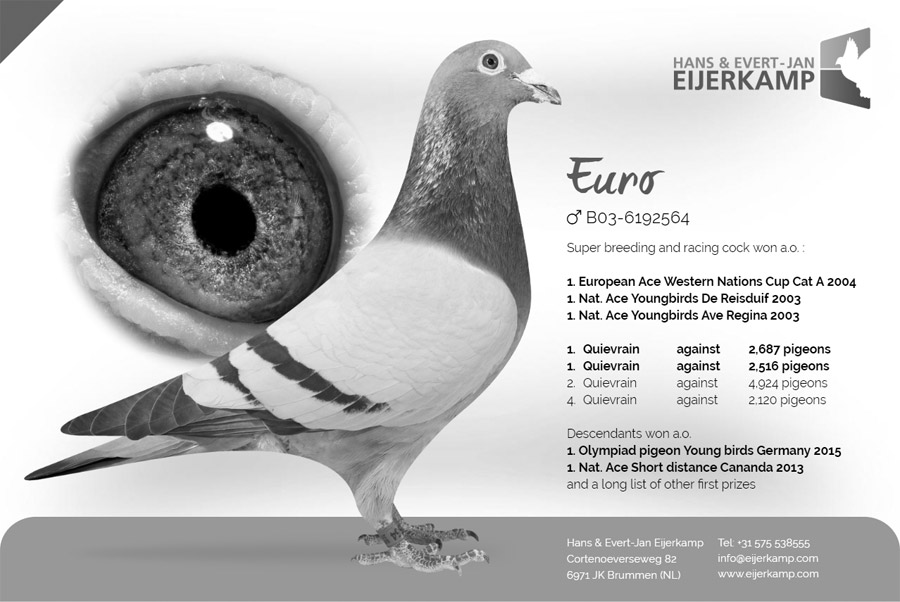 Dimitris
NL2019-1411147
'Dimitris'
is father to
2. Ace Pigeon As Golden Pigeon Race 2020
'Dimitris'
is winner of a.o.
| | | | |
| --- | --- | --- | --- |
| 58. | NPO Fay aux Loges | 5,735 pigeons | 548 km |
| 59. | Chalons | 5,141 pigeons | 373 km |
| 64. | Prov. Niergnies | 10,065 pigeons | 299 km |
| 156. | NPO Sens | 3,873 pigeons | 480 km |
| 177. | NPO Melun | 2,659 pigeons | 463 km |
| | | | |
Hans & Evert-Jan Eijerkamp
Cortenoeverseweg 82
6971 JK Brummen (NL)Tel: +31 575 538555
info@eijerkamp.com
www.eijerkamp.com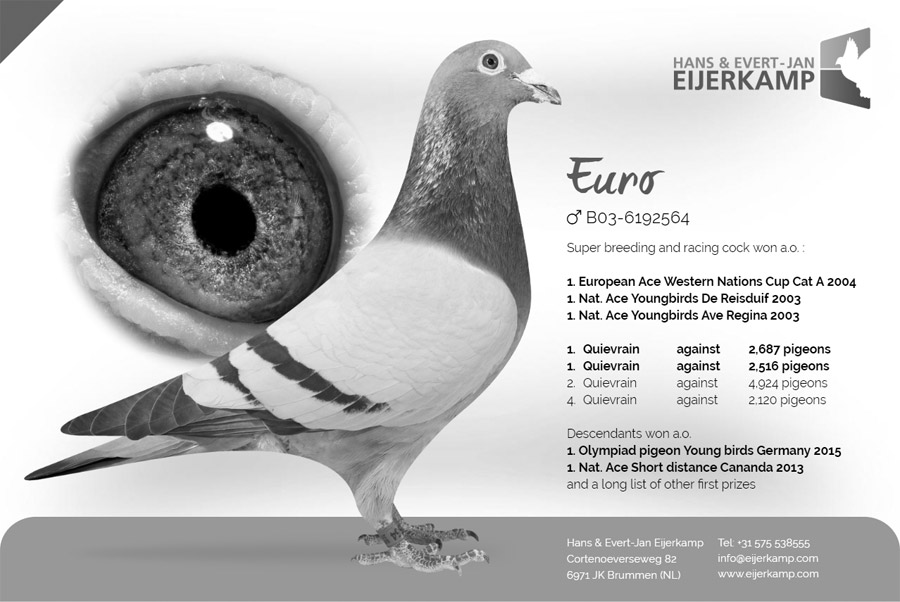 Ophalia
NL2016-1253389
'Ophalia'
is mother
'NL 571', winner of
2. Ace Pigeon Golden As Pigeon Race 2020
| | | |
| --- | --- | --- |
| 3. Avato | 1,141 pigeons | 167 km |
| 12. Amolofoi | 1,203 pigeons | 125 km |
| 44. Trifili | 958 pigeons | 280 km |
| 51. Mesouni | 1,049 pigeons | 210 km |
| 51. Final | 789 pigeons | 410 km |
Hans & Evert-Jan Eijerkamp
Cortenoeverseweg 82
6971 JK Brummen (NL)Tel: +31 575 538555
info@eijerkamp.com
www.eijerkamp.com