Team Twente wins 9th Final Sevilla OLR with 50% Eijerkamp pigeon
The winter edition of the Sevilla OLR had her final in a tough race in for which the first pigeons made 1386 m.p.m. covering a distance for 510 km. The first training started with 791 pigeons and in the final 465 pigeons were basketed.

The 9th Final prizewinner, NL20-1087140, entered by Doldersum Pigeons landed 13 minutes after the Slovakian winner. Doldersum Pigeons is a friend"s group for Rik Doldersum, Berry Bakker and Edwin Wiersma and they supposed to participate in the name Team Twente but due some misunderstanding the group was listed by Doldersum Pigeons.

The NL20-1087140 was bred by the partnership Jurjens-Bakker (Berry Bakker) from Sibculo and father for this pigeon is a direct Eijerkamp pigeon, NL19-1411374NL19-1411374. The "374" is grandson of Olympic Hans"Olympic Hans", 1st Olympic Pigeon for the Netherlands in 2017 at the Brussels Olympiad in Cat. D All-round. Next to Olympic Hans"Olympic Hans" we see in the pedigree for the father iconic pigeons as "Ibrahim, Door"Door" and Lichte Blauwe"Lichte Blauwe", so the best for the Eijerkamp-Van Loon paired to the best for the Heremans-Ceusters and in this combination to the superb line for the Olympic Hans"Olympic Hans". Mother to the NL20-1087140 is a direct hen from Benny van Dijk.

In the final ranking for the Ace pigeons the NL20-1087140 ended up as 14th Ace overall.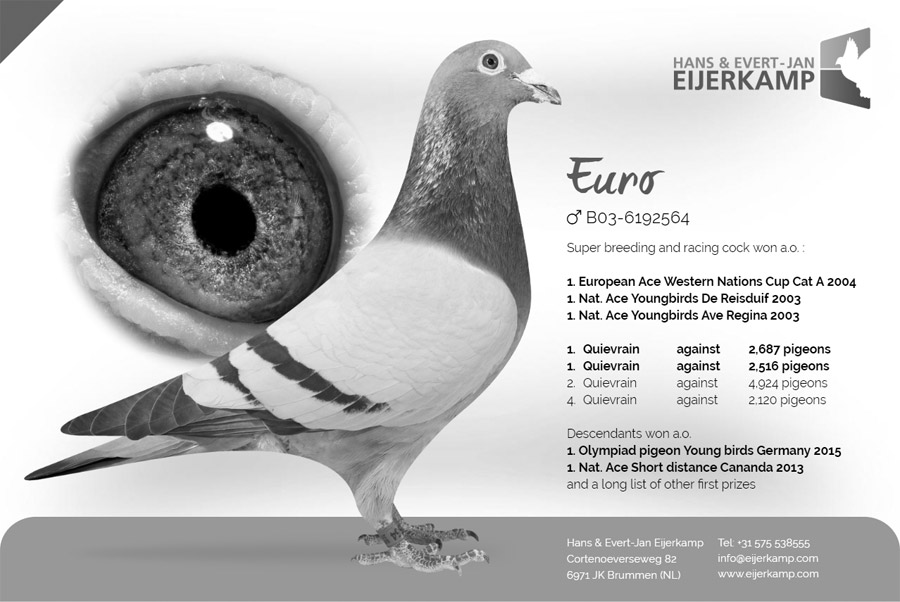 Olympic Hans
NL2012-1204759
"Olympic Hans"
is winner of
1. Olympiad pigeon All-round Brussels 2017
3. Nat Ace pigeon Long Distance WHZB 2015
| | | | |
| --- | --- | --- | --- |
| 1. | NPO Chateauroux | 3,120 pigeons | 709 km |
| 1. | Mons | 1,847 pigeons | 281 km |
| 1. | Peronne | 683 pigeons | 372 km |
| 2. | NPO Nanteuil | 4,476 pigeons | 448 km |
"Olympic Hans"
is (grand)father to a.o.
2. Nat. Ace Long-Distance WHZB 2018
2. Nat. Ace Middle Distance Young NPO 2019
| | | |
| --- | --- | --- |
| 1. | Bierges | 6,047 pigeons |
| 1. | Niergnies | 2,781 pigeons |
| 1. | NPO Vierzon | 3,993 pigeons |
| 1. | NPO Morlincourt | 3,065 pigeons |
Hans & Evert-Jan Eijerkamp
Cortenoeverseweg 82
6971 JK Brummen (NL)Tel: +31 575 538555
info@eijerkamp.com
www.eijerkamp.com