Khaleefa Nasser Al Kuwari, 3. Prize winner in Hot Spot 5 Victoria Falls OLR with 50% Eijerkamp
QAHP20-29429 "Darkness Lady" winning 3rd price in the Semi-Final out of Jabulani Safaris (442 km) in the Victoria Falls OLR in Zimbabwe against 1,913 pigeons on behalf of its owner Khaleefa Nasser Al Kuwari from Qatar. The Semi-final again was a tough race even when the pigeons made a fast speed as "Darkness Lady" made 1623 m.p.m. She won in this Hot Spot race US $ 5000.- price money.

Father is NL18-1627539NL18-1627539 "Balkan Ché" bred from Mister Black Sea"Mister Black Sea", winner 1. Black Sea OLR in 2016 (505 km) with speed of 1,351 m.p.m. and who is bred from top breeder "Black Sea Fabio" who is responsible for a few good pigeons performing well in several One Loft Races worldwide. Mother to "Balkan Ché" is Lieke"Lieke", direct daughter to the legendary "Ché".

"Balkan Ché" is already proven breeder in the loft for Khaleefa Al Kuwari as he has become father in meantime for:

Zajil Oman OLR
5. against 524 pigeons – 130 km
SAMDPR OLR
35. Against 1,756 pigeons - 340 km
139. Hot Spot 1 2,162 pigeons - 165 km
111. Hot Spot 2 2,046 pigeons - 213 km
174. Hot Spot 3 1,992 pigeons - 264 km
190. Final 1,548 pigeons - 600 km
16. Ace pigeon Overall
Victoria Falls OLR
3. Hot Spot 5 1,913 pigeons - 442 km
96. Hot Spot 2 2,949 pigeons - 147 km
90. Hot Spot 5 968 pigeons - 450 km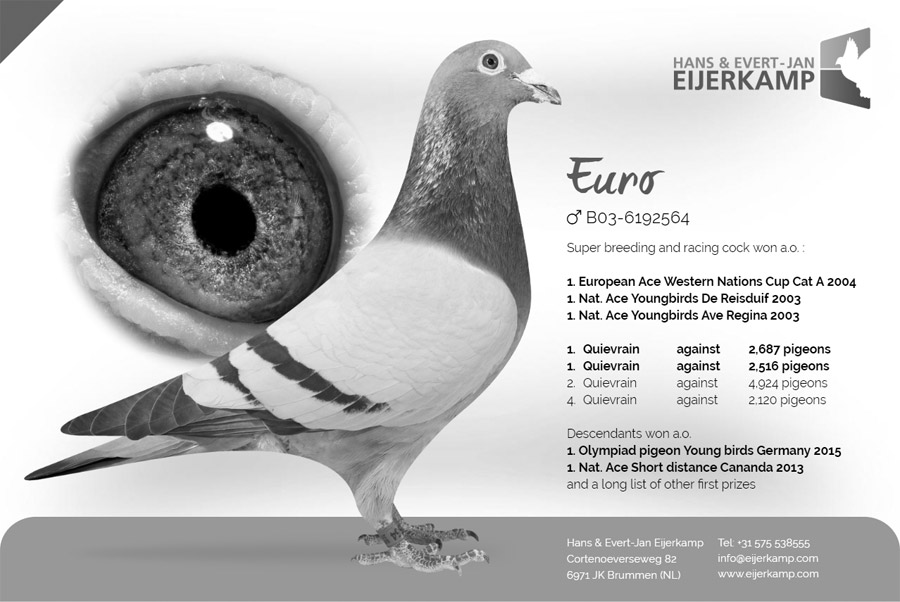 Black Sea Fabio
NL2012-1232894
"Black Sea Fabio" is father

1. Final race Black Sea OLR 505 km 2016
25. Final Pattaya OLR 530 km in 2016

Father: NL05-2103367 'Mooioog Leo'
Direct son 'Don Leo', 4. Nat. Ace Long Distance

Mother: NL07-1375064 'Yellow Lady'
Daughter 'Fabio', super racer- and breeder
and full brother 'Don Leo'

'Mooioog Leo' x 'Yellow Lady' are parents and
grandparents many good pigeons !!!

Hans & Evert-Jan Eijerkamp
Cortenoeverseweg 82
6971 JK Brummen (NL)Tel: +31 575 538555
info@eijerkamp.com
www.eijerkamp.com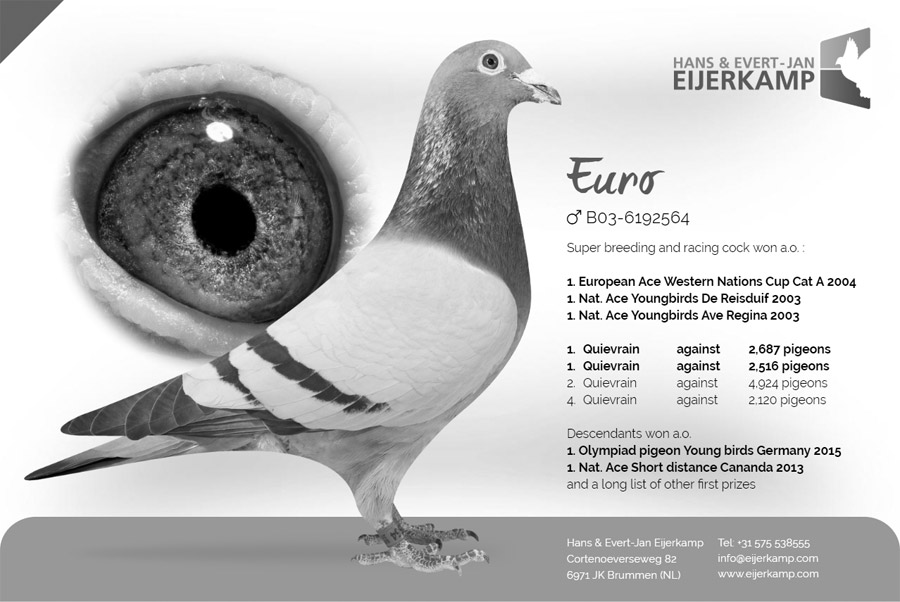 Lieke
NL2010-1272534
Daughter of super breeder/racer "
Ché
" winner
1.
NPO Orleans
14,285 pigeons
1.
Arras
9,641 pigeons
9.
NPO Orleans
18,184 pigeons
9.
Bourges
1,834 pigeons

Descendants of "Lieke" won a.o.
3.
Hearst
356 pigeons
6.
Quievrain
3.529 pigeons
18.
Isnes
583 pigeons
27.
Vervins
6.240 pigeons
28.
Chimay
643 pigeons
Hans & Evert-Jan Eijerkamp
Cortenoeverseweg 82
6971 JK Brummen (NL)Tel: +31 575 538555
info@eijerkamp.com
www.eijerkamp.com