Jamie Ennis - Lara (Australia), 1st Ace pigeon Gold Coast 50000 OLR bred from granddaughter Olympic Leo and Luka Modric
Jamie Ennis, who is professional and highly regarded greyhound trainer, probably made the best pigeon phone call ever early 2019 in which he ordered some pigeons direct out of the crème de la crop at Eijerkamp. In first he ordered some babies from Olympic Leo"Olympic Leo" and "Luka Modric" which just could make it into the long road to reach his loft in Lara in the state Victoria in Australia. The import of pigeons into Australia is a very complicated and expensive road, and takes in general between 6 and 12 months before pigeons got at their final destination. Once the pigeons reached his loft, he paired them together to settle and adjust and so these imports bred their first youngster, VHA19-13693, and this slate hen was a direct hit!!!

1st Ace pigeon Gold Coast 50000 OLR 2021
Jamie joined Australia's biggest and best One Loft Race with his Dream It Syndicate with some babies bred from the Eijerkamp offspring. After completing the whole tour, the VHA20-12024 "Kimm Zarr" became 1st Ace pigeon in this major One Loft Race in Australia which started with 878 pigeons.
The results for "Kimm Zarr"
| | | |
| --- | --- | --- |
| Race 1 | 11. / 697p | Kaloundra 117 km |
| Race 2 | 4. / 640 p. | Kybong 178 km |
| Race 3 | 8. / 491 p. | Tiaro 243 km |
| Race 4 | 15. / 465 p. | Bundaberg 344 km |
| Final race | 44. / 373 p. | Emu Park 561 km |

On the left, Jamie Ennis holding the mother of "Kim Zarr" and on the right his good friend David Wetering holding "Kim Zarr" (ace pigeon Gold Coast) in front of David"s race loft

The ace pigeon is bred direct out of the VHA19-13693 which Jamie bred out of his first two imports.
The father is NL19-1412427NL19-1412427, direct son Olympic Leo"Olympic Leo", 1st Olympic pigeon Cat. D Allround in 2013 and top breeder at Eijerkamp, when paired to Uniek"Uniek", a super breeding hen who is mother and grandmother to multiple winners and ace pigeons.
The mother is NL19-1412526NL19-1412526, a daughter of "Luka Modric", 4 times 1st National Ace pigeon as youngster in the Netherlands, when paired to Nisrina"Nisrina", a proven racing- and breeding granddaughter of the famous Jackpot"Jackpot". Father to the Ace pigeon is bred by good friend and coach David Wetering from his Pieter Veenstra bloodlines.




Outstanding results in Final, 3rd - 5th and 44th with offspring for Olympic Leo"Olympic Leo"
The imported son Olympic Leo"Olympic Leo" x Uniek"Uniek" NL19-1412427NL19-1412427 is already super breeding cock in a very short period as he also father to the 3rd Final prizewinner in this GoldCoast 5000 race.
" To have such an outstanding cock in my breeding loft is worth al the money already spent on the pigeons as this is really unique pigeon" according Jamie Ennis. "I did send 2 direct babies who both finished the whole competition and 2 grandchildren performed also well with "Kimm Zarr" being 1st Ace pigeon and her sister "Keeneland" finishing 5th Final".

Thanks to the prodigy for the Eijerkamp imports, Jamie Ennis won a cheque for AU $ 61,032 in the Gold Coast 50000 OLR race in 2021 and this is the highest cheque ever paid without actually winning the final race.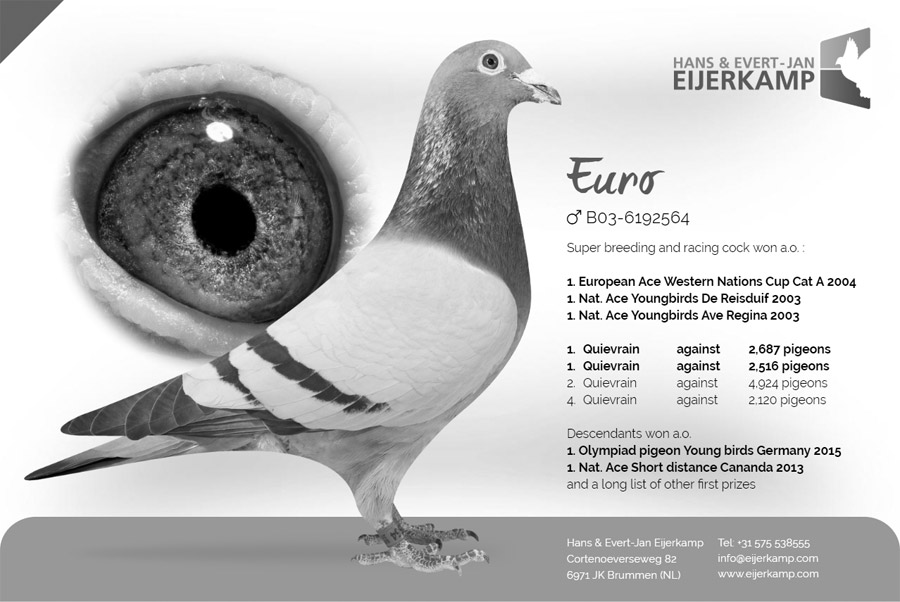 Olympic Leo
B2010-6146241
"Olympic Leo"
is winner
1. Olympiad pigeon Germany Cat D
2. Nat Acepigeon Ace cock Germany All-round
| | | |
| --- | --- | --- |
| 1. | Kalisz | 3,756 pigeons |
| 1. | Neubrandenburg | 3,517 pigeons |
| 1. | Neubrandenburg | 1,050 pigeons |
raced at W. Roeper
"
Olympic Leo"
is (grand)father
1. Prov. Ace pigeon Allround Afd. 8 in 2018
4. Nat. Ace pigeon S.D/M.D. Pipa 2019
| | | |
| --- | --- | --- |
| 1. | Geel | 6,739 pigeons |
| 1. | Chalons | 1,691 pigeons |
| 1. | Fulda | 5,961 pigeons |
| 1. | Sittard | 1,892 pigeons |
Hans & Evert-Jan Eijerkamp
Cortenoeverseweg 82
6971 JK Brummen (NL)Tel: +31 575 538555
info@eijerkamp.com
www.eijerkamp.com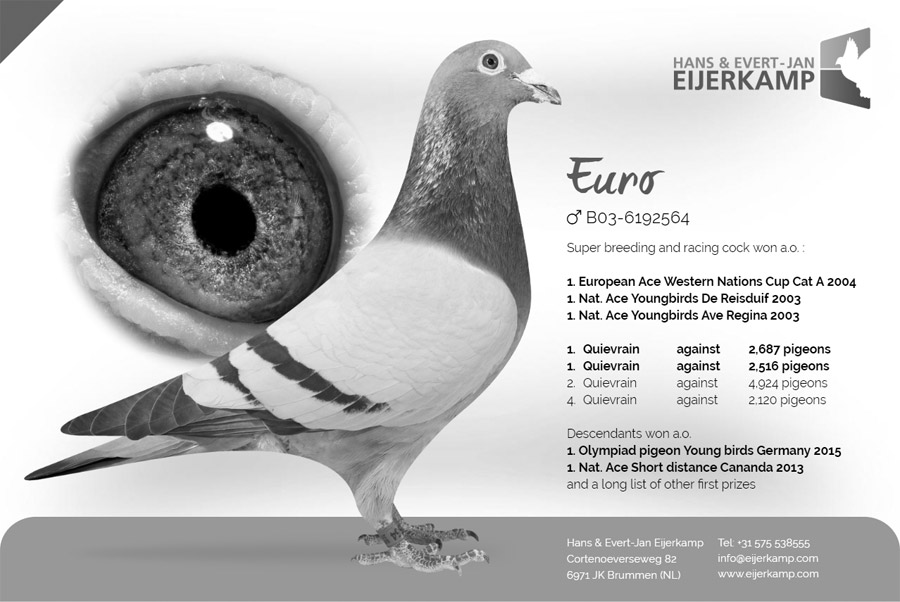 Uniek
NL2015-1897807
'Uniek'
is
superbreeding hen
and mother
1. Nat. Ace pigeon Yearlings De Allerbeste'19
1. Nat. Ace Middle Distance PIPA 2019
2. Prov. Ace pigeon Speed Section 8 2019
5. Nat. Ace Youngsters De Allerbeste 2018
8. Nat. Ace Youngsters PIPA 2018
12. Nat. Ace pigeon Short Distance WHZB 2019
| | | |
| --- | --- | --- |
| 1. | Niergnies | 6,400 pigeons |
| 1. | Budel | 4,373 pigeons |
| 1. | Niergnies | 1,597 pigeons |
| 1. | Geel | 1,292 pigeons |
| 2. | Niergnies | 2,748 pigeons |
| 2. | Quievrain | 6,209 pigeons |
| 2. | Niergnies | 9,706 pigeons |
| 5. | Tienen | 2,882 pigeons |
| 7. | Prov. Chalons | 17,360 pigeons |
| 7. | Tienen | 1,752 pigeons |
| 7. | Geel | 1,292 pigeons |
| 10. | Prov. Morlincourt | 22,392 pigeons |
| 16. | NPO Troyes | 3,836 pigeons |
Hans & Evert-Jan Eijerkamp
Cortenoeverseweg 82
6971 JK Brummen (NL)Tel: +31 575 538555
info@eijerkamp.com
www.eijerkamp.com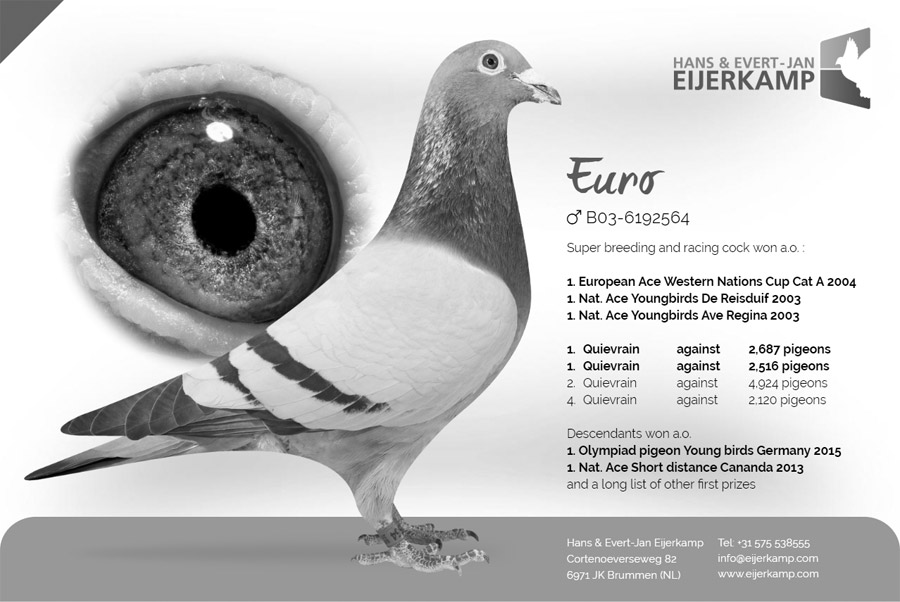 Luka Modric
NL2018-1627863
1. Nat. Ace Young NPO in 2018
1. Nat. Ace Young De Allerbeste 2018
1. Nat. Ace Young Pipa 2018
1. Nat. Ace Young Fondspiegel 2018
| | | | |
| --- | --- | --- | --- |
| 1. | Niergnies | 2,748 pigeons | 299 km |
| 1. | Bierges | 833 pigeons | 187 km |
| 3. | NPO Peronne ** | 5,900 pigeons | 332 km |
| 8. | NPO Troyes ** | 3,836 pigeons | 447 km |
| 24. | NPO Nanteuil | 5,215 pigeons | 408 km |
| 13. | Geel | 1,292 pigeons | 133 km |
| 35. | Tienen | 3,977 pigeons | 166 km |
| 56. | Laon | 2,597 pigeons | 327 km |
**
= behind loftmates
'Luka Modric'
is father
Hans & Evert-Jan Eijerkamp
Cortenoeverseweg 82
6971 JK Brummen (NL)Tel: +31 575 538555
info@eijerkamp.com
www.eijerkamp.com