Mostafa El Semary - Caïro (Egypt) winner 2. Final Pyramids OLR with grandchild Giant Ché
Picture: Hans, Mikky, Mostafa and Evert-Jan
Mostafa El Semary is one of the great champions in Egypt and that in meantime for a long time already. In the past he succeeded often in just club competition but in the last few yearas he also participating with great successes in One Loft Race and recently he won 2nd Final in Derby Aal Nagib in Egypt as well as 2nd Final Pyramids OLR in Egypt for which the last one was grandchild for the NL12-1234559NL12-1234559, a direct Eijerkamp pigeon bred from the "Giant Ché" and "Gonny".




"Egypte Ché", NL12-1234559NL12-1234559, is the hen with the golden eggs
In 2012 Mostafa again introduced some Eijerkamp pigeons into his breeding loft as he already been very successful until that time with Eijerkamp pigeons he bought direct in 2005 as well as via the Ponderosa UK Stud. In 2012 he visited the Greenfield Stud again and bought the hen NL12-1234559NL12-1234559 who is direct daughter for "Giant Ché, NL08-1102852NL08-1102852, a fantastic proven breeding son out of the legendary "Ché" when paired to Tara"Tara" who was daughter for the legendary "Kleine Dirk". Mother to the hen with the golden eggs is NL11-1343648NL11-1343648 "Gonny", a pure van Loon and bred out of the superb Van Loon lines in the Eijerkamp lofts as she is having Fabio"Fabio", Britt"Britt", Abel"Abel" and Michelle"Michelle" as grandparents.

"Egypte Ché" is mother to several top pigeons including "Davinci" who is one of the stars in the loft for Mostafa. "Davinci" EG17-1327 won a.o.
2. against 2,226 pigeons
2. against 1,012 pigeons
3. against 1,727 pigeons
7. against 1,300 pigeons
7. against 2,292 pigeons
9. against 1,400 pigeons
"Davinci" is father to several top pigeons incl. 1st Acepigeon in 2019 but also grandfather to the 2nd winner in the Pyramids OLR

2nd Final Pyramids International OLR
The EG21-1049 became 8. International Ace in the Pyramids OLR in 2022 against the 2,601 pigeons entered in this tough One Loft Race in Egypte. Her major performance was winning 2nd Final (402 km) against 647 pigeons with a speed of 982 m.p.m. while she also won 11th in Hot Spot 1 against 1,210 pigeons.


1st Hot Spot 3 (250 km) Pyramids International OLR
Mostafa El-Semary raced also in partnership with Mohammed Kotb and they won 1st Hot Spot 3 – 250 Km against 986 pigeons (1234 m.p.m.) with a 50% Eijerkamp bred out of the NL15-1362588NL15-1362588 who is granddaughter for the Nieuwe Olympiade"Nieuwe Olympiade", Rossi"Rossi", Kadootje"Kadootje" and Karen"Karen". This Hot Spot winner, EG21-1027 won the week behind the 3rd Hot Spot 4 (329 km) with a speed of 967 m.p.m. As pigeon sport often is, the hope was there in the final for this pigeon but unfortunately until now not returned from this tough final race.

Now this week the final was held of the Derby Aal Nagib in Egypt and in this final (600 km) Mostafa El-Semary won again 2nd prize just beaten again by seconds.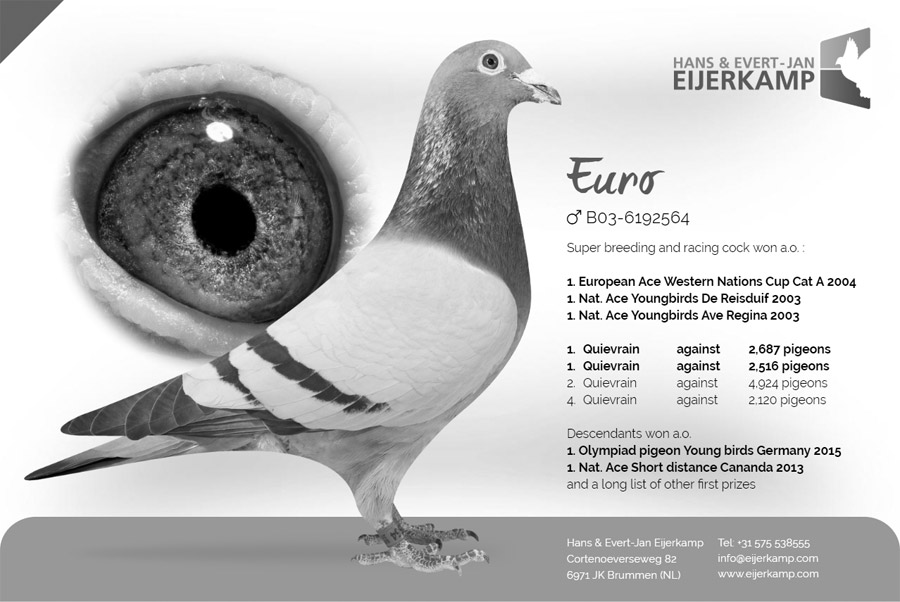 Giant Ché
NL2008-1102852
Son super couple "
Ché
" x "
Tara
"
"Giant Ché"
is great breeder and father
7. Acepigeon Golden Pigeon Race OLR
| | | |
| --- | --- | --- |
| 2. | Semi-Nat. Issoudun | 1,726 pigeons |
| 3. | Semi-Nat. Bourges | 6,533 pigeons |
| 1. | Tienen | 1,908 pigeons |
| 5. | Feluy | 2,732 pigeons |
| 5. | NPO Chateauroux | 2,200 pigeons |
| 6. | Chalons en Champagne | 2,830 pigeons |
| 6. | Blois | 1,614 pigeons |
| 7. | Hot Spot SAMDPR | 2,472 pigeons |
| 10. | NPO Chateaudun | 3,435 pigeons |
| 10. | Nanteuil le Haudouin | 2,211 pigeons |
Hans & Evert-Jan Eijerkamp
Cortenoeverseweg 82
6971 JK Brummen (NL)Tel: +31 575 538555
info@eijerkamp.com
www.eijerkamp.com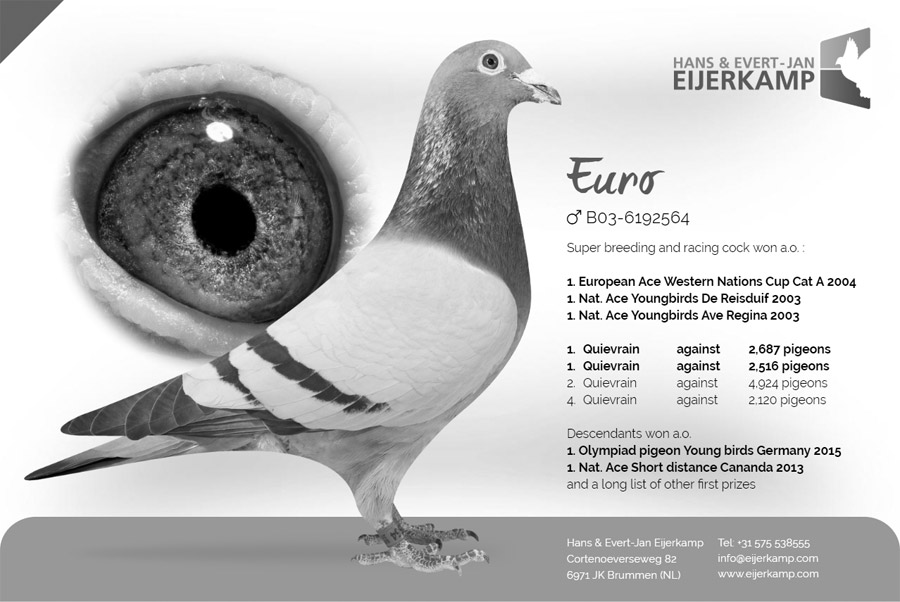 Gonny
NL2011-1343648
Daughter of "
Junior Britt
"
Descendants of "
Junior Britt
" won a.o.
| | | |
| --- | --- | --- |
| 1. | Halmajugra | 1,166 pigeons |
| 1. | Halmajugra | 997 pigeons |
| 2. | Kethely | 757 pigeons |
| 4. | NPO Sezanne | 6,928 pigeons |
| 4. | Peronne | 2,577 pigeons |
| 5. | Peronne | 3,693 pigeons |
| 7. | Niergnies | 1,254 pigeons |
Hans & Evert-Jan Eijerkamp
Cortenoeverseweg 82
6971 JK Brummen (NL)Tel: +31 575 538555
info@eijerkamp.com
www.eijerkamp.com