Boscheind Flyers - Luyksgestel win 4. Superfinal in Pyramids International OLR with offspring of the super Eijerkamp-Janssen toppers Jonge Generaal and Commander Bond
The super final of the Pyramids International OLR in Egypt was an extra for the 477 pigeons in competition, all pigeons were released in a distance of 490 km to cross the desert and Nile delta on their way to the North to the Pyramids lofts which are situated next to the Smart Village near the main airport of Caïro.

In the first drop of 5 pigeons also the NL21-1338742 of Boscheind Flyers NL was clocked, and with a speed of 944 m.p.m. she ended in 4th position just beaten by seconds from the winner. Boscheind Flyers NL is the partnership from Andre van de Wiel and Jan Schreuder from Luyksgestel who sent 26 youngsters to join this tough OLR in Egypt.


The NL21-1338742 won in the Pyramids International OLR
4. Superfinal 477 pigeons 490 km
23. Hot Spot 3 986 pigeons 250 km
48. Hot Spot 2 1130 pigeons 195 km

The NL21-1338742 is blessed with the fantastic genes from the Boscheind Flyers lofts who based their pigeons on their old lines including some fantastic Eijerkamp-Janssen pigeons from Hans and Evert-Jan Eijerkamp. The father to NL21-742 is grandson to "Red Star", NL04-1561795NL04-1561795, a superb Red Janssen breeding cock and grandson of "Commander Bond" while the mother is great-granddaughter to "Zoon Jonge Generaal", NL98-2221052NL98-2221052. The Jonge Generaal"Jonge Generaal" was true super racer in the Eijerkamp lofts and winner of 4 pure first prizes.
1. Pont St Maxence 7,257 pigeons
1. Roye 6,710 pigeons
1. Pont St Maxence 4,695 pigeons
1. Heverlee 2,455 pigeons
Because of these super performances the Jonge Generaal"Jonge Generaal" was 2nd Dutch Olympiade pigeon in Basel 1997 in the Middle-distance ranking.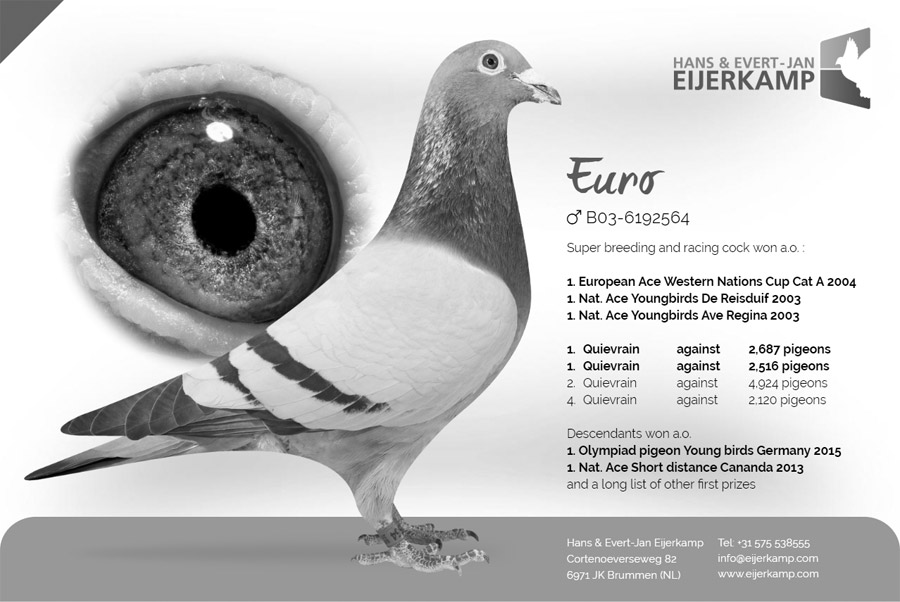 Jonge Generaal
NL1993-5334396
"Jonge Generaal"
won a.o.
2. Olympiad pigeon Middle DIstance Basel 1997
1.
Pont St. Maxence
7,257 pigeons
1.
Roye
6,710 pigeons
1.
Pont St. Maxence
4,695 pigeons
1.
Heverlee
2,455 pigeons
2.
Duffel
2,747 pigeons
4.
Quievrain
3,096 pigeons
4.
Houdeng
2,504 pigeons

Descendants to "Jonge Generaal" won a.o.
1.
NPO Argenton sur Creuse
8,046 pigeons
1.
Peronne
4,770 pigeons
1.
Ravenstein
2,429 pigeons
Hans & Evert-Jan Eijerkamp
Cortenoeverseweg 82
6971 JK Brummen (NL)Tel: +31 575 538555
info@eijerkamp.com
www.eijerkamp.com