Thailand Masters 2022/2023; 3 Eijerkamp descendants in the Top 10 Grand Average Ace Pigeons
We previously posted an article about the successes of Eijerkamp descendants in the Thailand Masters, but now at the end of this edition, we have compiled the results and see that 3 Eijerkamp descendants are in the Grand Average Top 10 Racing Pigeons in this edition. The Grand Average Racing Pigeons are the best pigeons over 7 flights, ranging from 50km to 530km, and 3 out of the 10 Ace pigeons are descendants of Hans and Evert-Jan Eijerkamp. Interestingly, all 3 pigeons were bred in the United Arab Emirates, and all of them have the great Eijerkamp Van Loon lines

Omar Al-Hamli and Evert-Jan Eijerkamp

Al Ain Loft, AE22-1500300, 4th Ace Pigeon Thailand Masters
Mohammad Al Ghafli had the fourth ace pigeon in the competition, and the "
Shadow 300
" is bred from NL17-1827010 "
Silver Shadow
10
", one of the key breeders in his loft. It is inbred to the famous
Silver Shadow
"Silver Shadow"
as it is bred out of two direct Eijerkamp van Loon pigeons (
NL01-1411783
NL01-1411783
X
NL02-1116995
NL02-1116995
), both of which are very inbred to the key pigeons
Rominger
"Rominger"
and
Silver Shadow
"Silver Shadow"
. The mother of "
Silver Shadow 10
" is bred from
NL02-1116946
NL02-1116946
, who is a direct daughter of the famous
Silver Shadow
"Silver Shadow"
. The mother of the fourth ace pigeon is the EMR17-882, bred by the Al-Hamli Team, and a granddaughter of
NL13-1804655
NL13-1804655
, who is a proven breeding son of the famous
Usain
"Usain"
, who won first place in the NPO race Nanteuil against 5,901 pigeons at the lofts of Hans and Evert-Jan Eijerkamp. This grizzle cock AE22-1500300 won in the final race 559
th
position against 2,305 pigeons.


Eijerkamp-Barsha, AE22-1100012, 9th Ace Pigeon Thailand Masters
Hans and Evert-Jan Eijerkamp, together with good friend Ibrahim, form a new One Loft Race Team starting in 2022. Under the name of Eijerkamp-Barsha, they will participate in several races and the combination has achieved its first success with the 9th Ace Pigeon in this edition of the Thailand Masters. The AE22-1100012 was bred at Ibrahim"s lofts in Dubai from two Eijerkamp pigeons, as the father, NL20-1249707NL20-1249707, "Meredien" is a son of Olympic Lucky"Olympic Lucky", winner of 7 first prizes and 1st National Ace Pigeon and 1st Olympiad Pigeon for Croatia, paired with a granddaughter of the top pigeon Indy"Indy", 3rd National Ace Pigeon Allround. The mother of the 9th Ace Pigeon is the NL20-1249604NL20-1249604 "High Energy", a direct daughter of "Luka Modric", 1st National Ace Pigeon Young Birds NPO in 2018, paired with "Cointreau", 7th National Ace Pigeon Yearlings PIPA in 2018. The AE22-1100012 won 429th position in the Final race against 2,304 competitors.



Henk Jurriens and Evert-Jan Eijerkamp visiting Ibrahim Aljanahi in Dubai

Al HamIi Team, EMR22-2733, 10th Ace pigeon Thailand Masters
Omar and Ahmed Al Hamli from Dubai are already friends to Team Eijerkamp for over 25 years and during that period they introduced several pigeons in their loft successfully. One of those pigeons is the NL18-5159768NL18-5159768 Inbred Don Leo"Inbred Don Leo" who is bred from brother X sister mating as he is son of "Hagrid" X "Irena" both children of the superb Eijerkamp-Van Loon pair Streetfighter"Streetfighter" X Kentucky"Kentucky". The "NL18-5159768NL18-5159768 is now also father to 10th Ace pigeon in the Thailand Master when he was paired to a hen which Omar and Ahmed bred themselves and who is a daughter of the 5th Ace pigeon in their loft. The EMR22-2733 won in the final (530 km) the 97th position against 2,305 pigeons. The Al Hamli Team also won 22nd in the Final race so a great success for both brothers again after they already won 14th position against 3,042 pigeons and this also was 50% Eijerkamp pigeon as the father, NL17-1819824NL17-1819824, is a son of Wout"Wout" X Paulien"Paulien".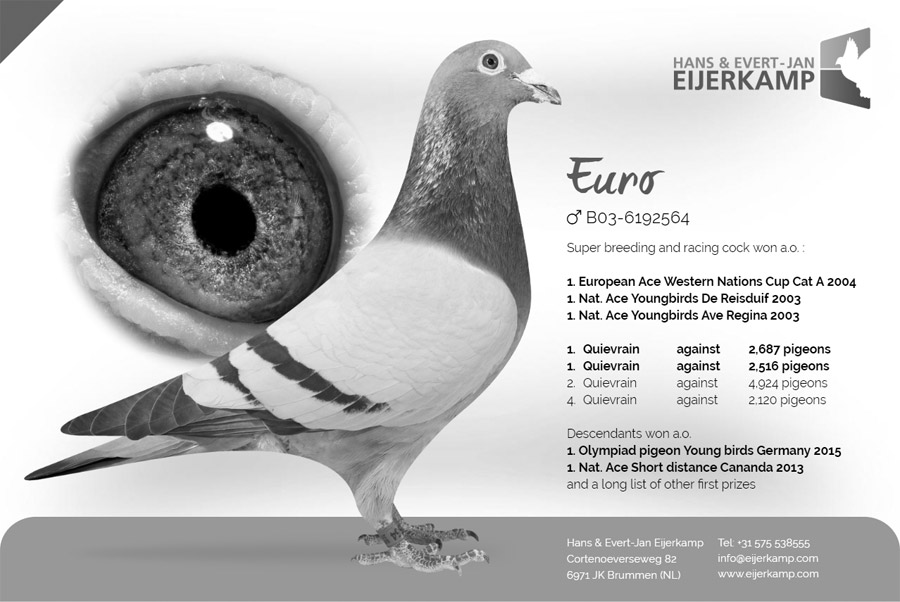 Streetracer
NL2018-5159768
Inbred
"Streetfighter"
x
"Kentucky"
Descendants to
"Streetfighter"
won a.o.
2. ACE One-Day Distance Regio 4 section 8
3. Olympiad pigeon Serbia Olympiad Cat G
3. Provincial ACE Young Birds Section 11
4. Provincial ACE One-Day Distance Section 8
| | | |
| --- | --- | --- |
| 1. | NPO Peronne | 14,253 pigeons |
| 1. | St. Quentin | 1,482 pigeons |
| 1. | Cochrane | 1,004 pigeons |
| 1. | Brza Palanka | 843 pigeons |
| 1. | Nakovo | 498 pigeons |
| 2. | Blois | 1,614 pigeons |
| 3. | NPO Peronne | 14,253 pigeons |
| 3. | NPO Orleans | 5,788 pigeons |
Hans & Evert-Jan Eijerkamp
Cortenoeverseweg 82
6971 JK Brummen (NL)Tel: +31 575 538555
info@eijerkamp.com
www.eijerkamp.com