Eijerkamp pigeons are performing very well in the Pyramids International OLR and Derby Aal Nagib in Egypt
Egypt has two very large One Loft Races in which we have both participated successfully, as well as descendants from our pigeons that have performed very well.

Pyramids International OLR

Recently the final was held in the famous Pyramids International one loft race in Egypt. We were very happy with the 18th position we won in this tough OLR in Egypt with our pigeon NL22-8230053NL22-8230053.
A full sister to this pigeon won 35th in the Derby Zagreb OLR in 2022 and both bred from "Mr. X", a pure Heremans-Ceusters and son of top hen Dafne"Dafne", when paired to Ginny"Ginny", a proven Van Loon hen.




Als congratulations to Umm Birka Loft from Qatar winning 7th in this final with a 50% Eijerkamp pigeon Mr. Abdullah bred the 7th Final out of "Ramona, NL18-1627657NL18-1627657, who won 1st Prov. Laon against 9,815 pigeons in our lofts



Derby Aal Nagib

In the tough Semi-final (502 km) Derby Aal Nagib in Egypt Hans and Evert-Jan Eijerkamp won 21st position (Speed 985 m.p.m.) against 1,039 pigeons with the NL22-8230272NL22-8230272.
The NL22-8230272NL22-8230272 is bred from "Diablo", a pure Van Loon, paired to "Dragon Lady", a daughter out of Olympic Hans"Olympic Hans" and Indy"Indy", who both are foundation pigeons in our loft. "Dagon Lady" herself was already 31st Nat. Ace pigeon Youngsters in the Middle-Distance PIPA. A full sister to NL22-8230272NL22-8230272 was crowned 42nd Ace Pigeon in the PIPR Pattaya OLR in 2023.




We also want to congratulate Dr. Sami Ismail Yasser who won 3rd prize in this Semi-Final with a 50% Eijerkamp pigeon, bred out of NL20-1248577NL20-1248577 who is grandson to Vale Jackpot"Vale Jackpot" and Esther"Esther", both also top pigeons at the Eijerkamp lofts.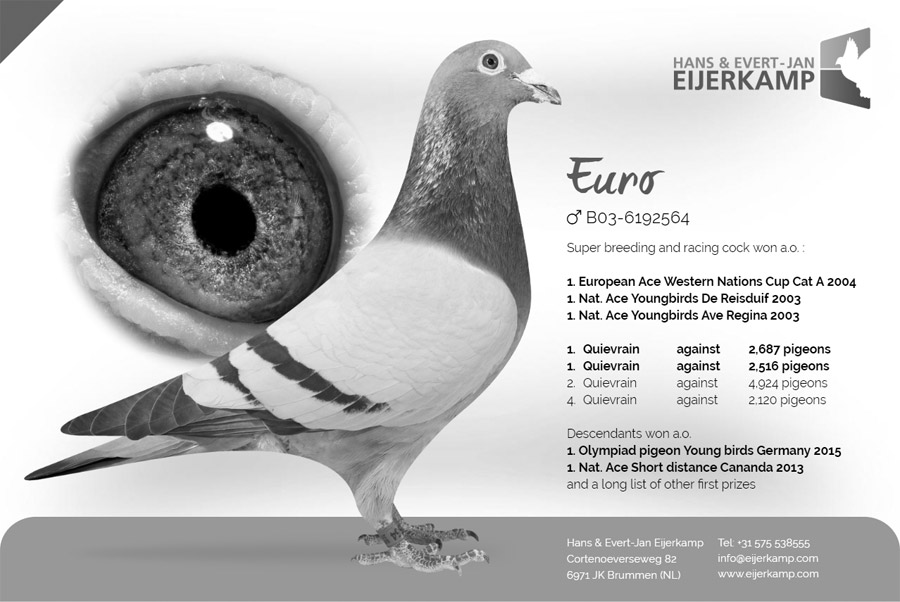 Ticker
NL2020-1248577
Grandson "
Vale Jackpot
" who is
Carwinner Section 7 Young Birds



"Vale Jackpot"
is winner of the following prizes
1.
Mantes la Jolie
3.008 pigeons
3.
Pommeroeul
1.731 pigeons
4.
NPO Pommeroeul
5.279 pigeons
6.
NPO Mantes la Jolie.
5.965 pigeons

Descendant "Vale Jackpot" won a.o.
1.
Asse Zellik
4,715 pigeons
2.
Hapert
2.720 pigeons
1. Ace Aspigeons OLR Greece 2019


2. Final Talent Quatro OLR 2019
Hans & Evert-Jan Eijerkamp
Cortenoeverseweg 82
6971 JK Brummen (NL)Tel: +31 575 538555
info@eijerkamp.com
www.eijerkamp.com